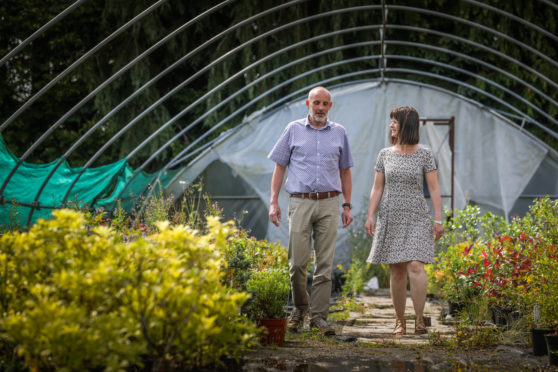 A community growing space in Dundee's biggest park could help to tackle obesity rates and food poverty, according to the team behind the plans.
A seven-hectare former plant nursery in Camperdown Park has been identified by the council as an ideal location for the project.
It would be available for everyone across the city but geared particularly towards groups and individuals experiencing the greatest levels of social and health inequalities.
A public consultation to gather ideas on how best to develop the site, which has been the target of vandals in recent years, is now drawing to a close.
The non-profit Dundee Social Enterprise Network had been given £20,000 to carry out a feasibility study.
It is hoped the scheme could open some time next year if additional funding can be sourced.
Dundee Social Enterprise Network's chief executive Julie Farr said she hoped the land would boost the wellbeing of people in the city.
"It's a unique idea in Dundee," she said.
"There are obviously allotments and community gardens but nothing on this scale and with as wide a scope.
"I would hope that it could make a difference to obesity rates, food poverty and healthy living, as well as helping people with mental health issues.
"We're still conducting a feasibility study but we hope to figure out what would be the best use. There have been some innovative ideas from the public but we don't want to say too much about them because we don't want people to be influenced by others."
The idea behind bringing the disused space back to life is to grow plants as well as vegetables, and to allow people to tend to the land for other purposes.
Wendy Bryan, who also works at the Dundee Social Enterprise Network, said: "Other initiatives go from strength to strength around Scotland, building more sustainable local food systems which benefit local economies, communities and the environment.
"Community involvement in productive growing of fresh local produce with commercial outlets is an exciting one for Dundee and the idea is being positively received with markets opening up.
"The revenue generated from the sale of produce and other services could fund a range of educational programmes to support the benefits of growing, cooking and eating good nutritious food around the city."
The £20,000 cost of the study is being met through an external grant of £10,000 with the remaining met from Dundee City Council's neighbourhood services revenue budget.
To take part in the consultation, which closes on July 31, visit www.surveymonkey.co.uk/r/CamperdownGrowingSpace