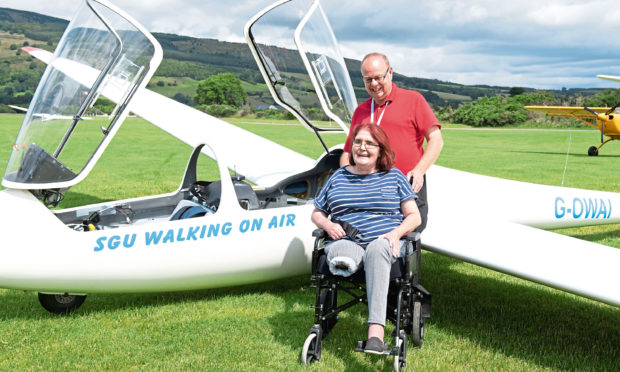 A Dundee woman defied the odds to take to the skies, just three years after suffering a serious stroke.
Angie Wilkinson, 56, has returned to her love of glider-flying thanks to the Scottish charity Walking on Air.
Before her stroke Angie and her husband David had always been very active.
They loved camping and being outdoors and used to fly gliders as a hobby, dating back to the time David was in the RAF.
When Angie had a stroke, it affected her ability to walk and talk. A few months later, she developed circulation problems and had to have her leg amputated.
She feared she would never again be able to do the things she loved.
Angie said: "After my stroke I felt limited to activities in the house.
"I just felt tired all the time and couldn't get out and about easily.
"That was probably the thing that David and I found the hardest.
"We used to be so adventurous; I just didn't feel like myself any more."
Angie then met Darlene Drummond, rehabilitation support co-ordinator at Chest Heart and Stroke Scotland.
Darlene was determined to get Angie back airborne after finding out she loved to fly gliders.
Angie said: "Darlene was so helpful. She reminded me what life was like before my stroke and showed me that it was possible to get back to doing the things I loved.
"I never imagined I'd be able to fly again. It was absolutely amazing.
"I have so many happy memories with David spending the weekend flying gliders – it's really special to have been able to do this again.
"I want to thank everyone at Walking on Air for being so helpful and allowing me to get back in the air again in their specially adapted glider.
"It was a moment I'll never forget and I can't thank Darlene enough for reminding me that it is possible to do the things I loved before my stroke. I can live my life to the full."
Darlene said: "I am absolutely delighted that Angie has been able to get back to flying.
"It's something which clearly brings her so much joy.
"Angie has been so determined and her confidence has grown so much since I first met her.
"She is the perfect example of no life half lived and a true inspiration to us all."
Walking on Air utilises the facilities at the Scottish Gliding Centre in Scotlandwell to provide an opportunity for people with disabilities to be able to fly a modified glider