A dead-end walkway behind two of Dundee's most-visited landmarks is the stage. As the rain spits down, a crowd gathers as lyrical stories set in the city, both real and imagined, ring out across the Tay.
From James and Robert Wedderburn, to the notorious William McGonagall and modern-day makars Tracey Herd and Don Paterson, Dundee has a long poetic history.
Now Mark Richardson and Gemma Johnston, the two local wordsmiths who organised Thursday night's impromptu poetry gig behind Discovery Point, are quite literally taking to the streets to share their work – and hope to inspire other writers to join them in the coming months.
The spoken-word poets both took to verse in adulthood as a means of self-expression, sharing their work through videos and building up big followings through social media before graduating to live performances at venues across Scotland.
They are the latest in a long-line of Dundee "street poets" to emerge, following in the footsteps of Gary Robertson, Mark Thomson and Kevin McCabe – who gained popularity with work written in the local Oary dialect.
Both Mr Richardson and Ms Johnston have performed at spoken-word gigs across Scotland, but hope their outdoor performances in Dundee can inspire a new generation of street poets to share their work.
"I started writing probably about three years ago and just kind of felt it was a good way to get emotions on the page," said Ms Johnston, 27.
"Sometimes I think it is difficult to say things and describe things.
"I just started posting videos to express myself. I pushed myself to make those videos. It was terrifying when I started posting."
The Whitfield mum, who has also experimented with rap music, cites Ian Brown, Tupac Shakur and Biggie Smalls as influences; and describes herself as a spoken-word artist.
However one of her earliest inspirations was her great-auntie, Dundee folk singer Sheena Wellington, whose performances she would watch as a youngster.
Gemma has performed her work on stages across Scotland and has collaborated with the BBC.
She uses poetry to tell stories about the community and experiences of her Dundee youth, having grown up around the now-demolished "four multis" of the Hilltown.
"Most of my writing it is when I am angry about something. I need to just get it out. For me it is a healthy. I can express different emotions," she added.
"I describe myself as someone expressing myself through rhyme. I didn't really label myself to begin with. I didn't know what spoken-word poetry was before. I didn't know there was a thing called that.
"After I did that people were labelling it rap.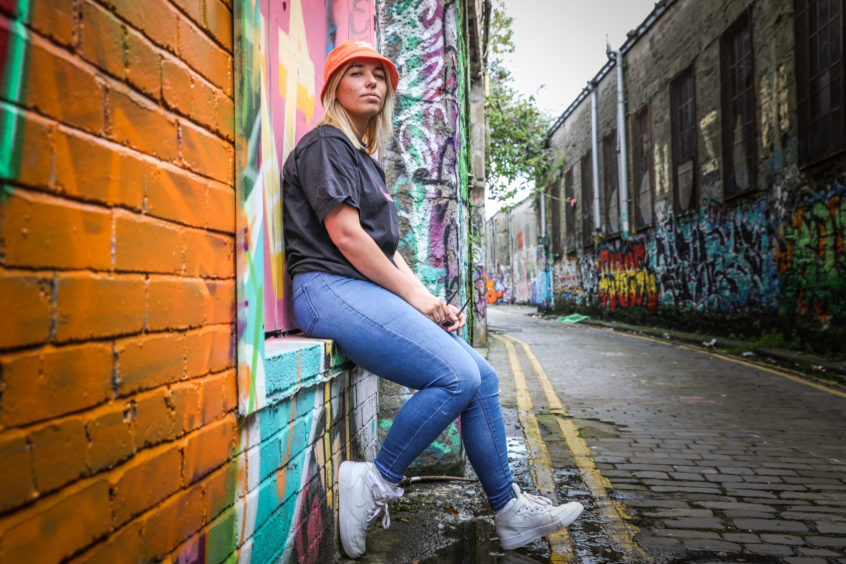 "I feel passionate about what I am saying. All the words I am saying I do really mean them. They come from the heart.
"I am proud of where I am from. There was a really busy street between Ann Street and Alexander Street. It just disappeared. All those people are just gone from there. For me it (the poetry) is nostalgic.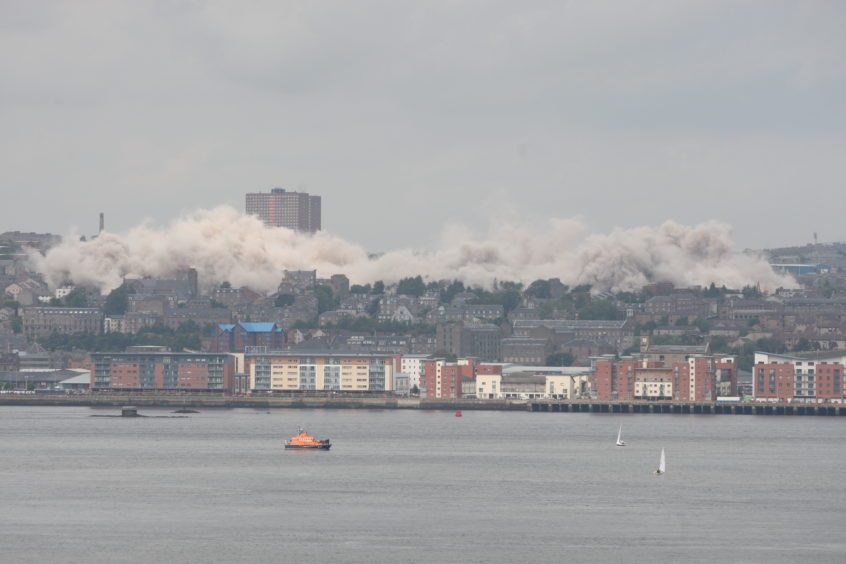 "I think Dundee has become more of a creative city. I think a lot of Dundonians are beginning to believe in who they are and be proud of where they are from."
Mr Richardson didn't start writing and performing poetry until the age of 29. He soon progressed from reciting for friends at parties to posting incredibly popular poems to Facebook.
He has a broad canvas of work covering – as he puts it – "serious issues, funny issues and local issues", with topics ranging from drug addiction, mental health and even the plight of Dundee's herring gulls.
Mr Richardson, 40, said: "All throughout my teens and twenties I never thought about poetry. I never thought anything about writing. I think I have always had this sort of in me but it just took a lot to come out.
"People I grew up with and went to school with were quite surprised because I was quiet at school, quite withdrawn. I always felt like I had something to give. It took me that to realise it was poetry. It took me until I was 30 to realise that.
"I'll get them (the poems) in my head and I'll either write them down or I'll go online and sort of type them in Facebook and then post it. I'll keep it saved and go back and add stuff to it and just create it into a piece that is long enough for spoken-word.
"It can take two-three weeks, maybe a month. And to memorise it I'll write it down. I'll just read it into my phone, record it, just put it in headphones and listen to it over and over."
He added: "People say to me this style of poetry, that style of poetry. I just write what comes out. It is like word play."
Mr Richardson, who has also performed for pupils at Perth Grammar on several occasions, says Dundee's working class roots and its literary history are intertwined, and believes the "rawness" of the city is part of what inspires him and others like him.
"It is a tradition of street poetry," he said.
The street poetry gigs will be organised via social media. If the next one proves popular, Mr Richardson and Ms Johnston hope to hold them in the evenings at different locations in Dundee every month.
'We just told it how it was'
Dundee's original street poet has called on even more locals to put pen to paper and keep the character and dialect of the city alive through the written word.
Writer Gary Robertson, of Fintry, is the man behind popular local plays The Scaffies, The Berries and The Middle O' Nowhere: A Bothy Haunting.
However he cut his literary teeth writing poetry alongside pals Mark Thomson and Kevin McCabe after the trio met at a writing group called Hilltown Horizons in the early 2000s.
The group went on to form Tribal Tongues and their brand of poetry – written in Dundee's "Oary" dialect – took the Scottish spoken-word scene by storm.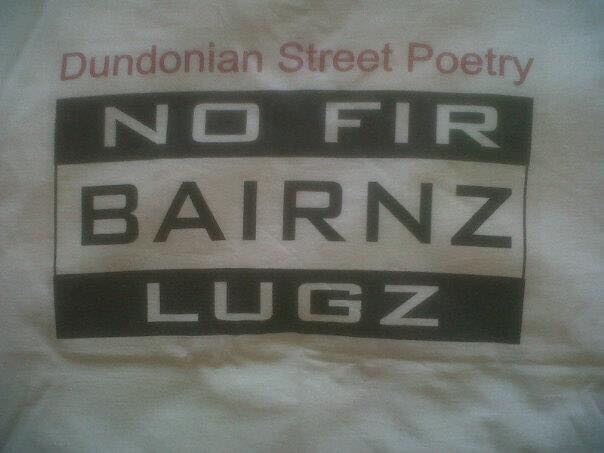 Mr Robertson, who coined the term "Dundee street poetry", said: "After my involvement in SAS: Are You Tough Enough? that is when I began writing.
"I just started getting poetry in my head. I can't explain it or where it came from.
"One day I saw a poster with a poem and it was written by Kevin McCabe. It was written in Dundonian dialect. It blew me away."
He said the writing group "just lit a spark that led to everything that I have done writing-wise".
Mr Robertson said: "I got writing about memories of growing up in the 70s. The memories of growing up in the housing schemes. We just told it how it was.
"We were going out and we were proud to be speaking in the Oary. You should be proud of the dialect you speak."
Mr Robertson said he is "excited" to see more people in Dundee taking up spoken-word poetry, adding: "It is great to hear. For me it is about bringing the language alive, bringing the character of the city of Dundee alive, being proud to speak the way we are brought up.
"There's so many people who write poetry but keep it to themselves.
"There is a real energy and buzz about the city. It is great to see these guys looking to perform and inspire people. Dundee is really on the up."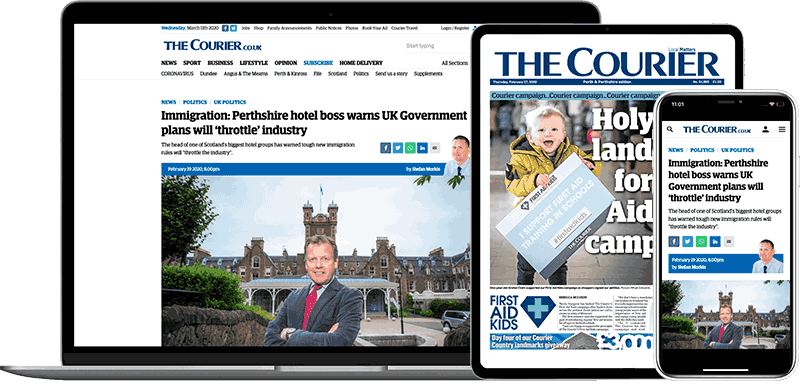 Help support quality local journalism … become a digital subscriber to The Courier
For as little as £5.99 a month you can access all of our content, including Premium articles.
Subscribe