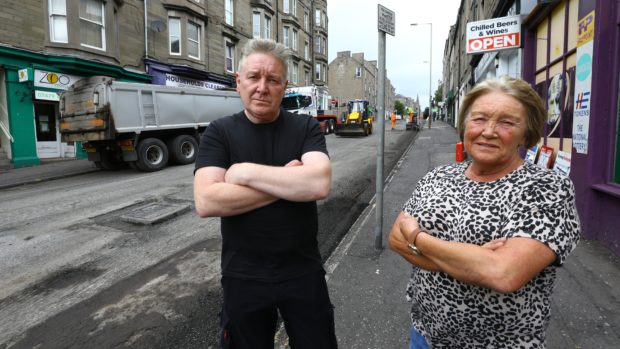 Businesses in Stobswell have decided to temporarily shut up shop after major roadworks began on Monday.
The area's main thoroughfare Albert Street will be impacted for the next three weeks.
The section from Arbroath Road to Arthurstone Terrace is scheduled to close until next Monday but workers have reportedly told locals that the work is unlikely to be finished by then.
The second phase of the resurfacing work will see north of Arthurstone Terrace to Dura Street closed.
Pedestrian access has been maintained, however, dust and debris from machinery means most have been avoiding the stretch if they can.
Sandra Small, who owns The Tanning Lounge, said she only stayed open to receive a delivery and only had around 20% of her usual number of customers.
She said: "Some of the shops nearby have decided to shut for some of the time.
"I'll likely do the same because what's the point in opening?
"The amount of dust that's around means nobody wants to walk around here even if it's still open to pedestrians. I've been told by the workers to keep my door shut so it doesn't get in.
"All this in the air will be a nightmare for the takeaways and cafes.
"Albert Street is closed for this kind of thing so often because it's not designed for the volume and type of traffic that comes down it every day.
"HGVs are damaging the road and it needs constantly fixed.
"It's not like we ever get any compensation for all this.
"I really don't need this. It's already hitting me hard and it's just started."
Cars throughout the day were seen driving south down Albert Street to then have to U-turn back up at McGill Street when faced with closure signs.
Diversions are in place via Dura Street and Dalkeith Road.
Albert McIntosh, owner of two House Clearances stores, located on Lyon Street and Albert Street said the roadworks are a "total nightmare".
He said: "I can't get deliveries into either of my stores.
"They never said parking on Lyon Street would be restricted but there are cones up all along the street and outside my shop meaning nobody is coming in.
"They started putting bollards up on the street without saying anything. It's chaos."
Mark Garty, who owns Just Right for Reptiles, businesses need to put up with the work.
He said: "It's worse here than elsewhere because the road is so heavily used and needs fixed all the time.
"I think though that if customers really want to visit, they'll find a way."
The council have previously advised motorists to use the free car park in Dura Street when visiting Albert Street during the works.