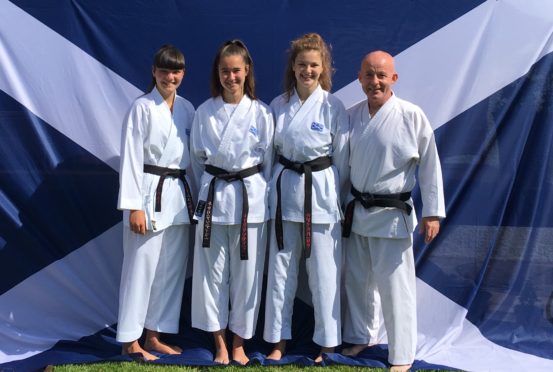 A team of instructors from a Dundee karate club braved torrential rain and a gruelling climb up England's highest mountain in pitch darkness to complete an epic three peak challenge in under 24 hours.
Niamh Conway, Carrie-Anne Taylor, Samantha Barlow and Kevin Scott, all from Muirhead's Saltire Karate, were joined by 14-year-old Scottish Karate Union student Sarah Brand to climb a combined 23 miles up Snowden, Scafell Pike and Ben Nevis.
The group set off at Snowdonia National Park in Wales on Saturday before racing to England's Scafell Pike for a nighttime climb that took them well into the early hours of Sunday morning.
They then embarked on the 462-mile drive north to Ben Nevis, where they tackled their third climb of the weekend to complete the challenge in 23 hours and 48 minutes.
Mr Scott, 50, said: "To say it was a challenge is an understatement. The weather was atrocious.
"It poured with rain on Snowden and it was completely dark when we were climbing Scafell Pike. There was a weather warning out when we were on Ben Nevis and we couldn't see a thing, it was constant rain all the time.
"We're not experienced at all really, we're just amateurs. Fortunately, when you go up the routes are reasonably well laid out.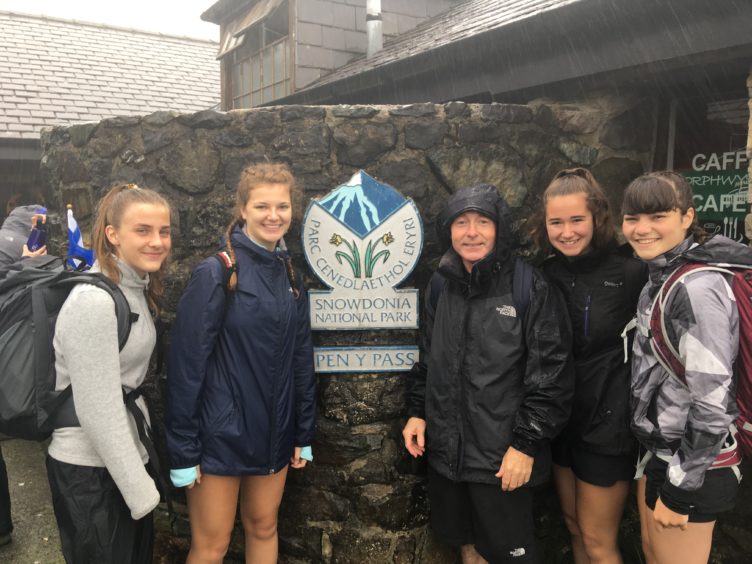 "When we were driving back from Fort William on Sunday, I think everyone was a bit sore and tired but I hope when the girls have had a chance to process it all, they'll be very proud of their achievement.
"We completed the whole thing in 23:48, although we set out a little later than we planned because we were waiting for the weather to break."
Samantha, 15, Niamh and Carrie-Anne, both 16, are all junior instructors at Saltire Karate and hope to raise around £1,000 through their efforts.
The group have just returned from representing Scotland at the Karate World Championships in Bratislava where they were part of a 40-strong team who won eight gold, five silver and seven bronze medals.
All of the money raised on the challenge will go towards the costs of competing at the European Championships in Denmark in October.