Locals across Tayside and Fife have been told to brace for thunderstorms and flooding on Tuesday evening.
The Met Office has issued a yellow warning for thunderstorms across all of Courier country.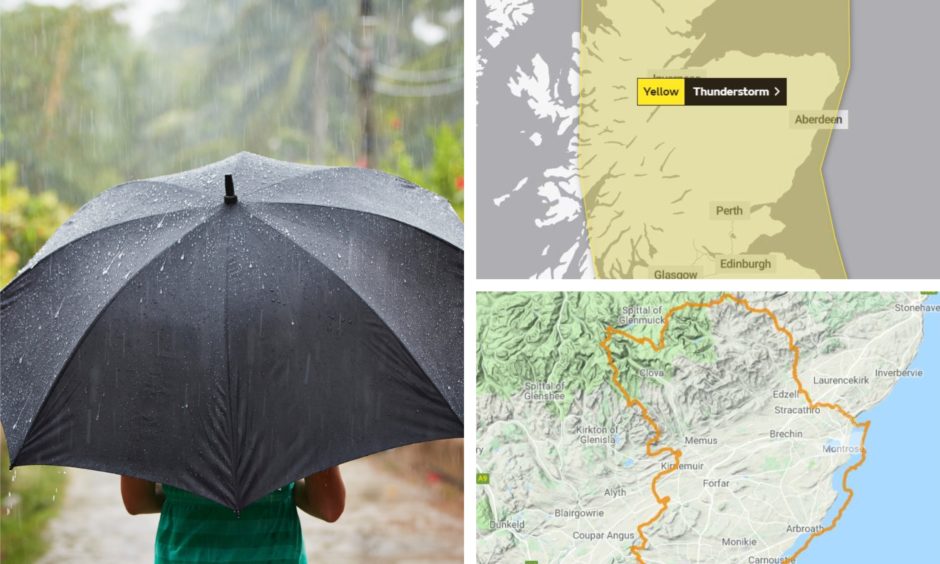 It will be in place in most of Scotland and much of England and Wales between 6pm tonight and 9am tomorrow.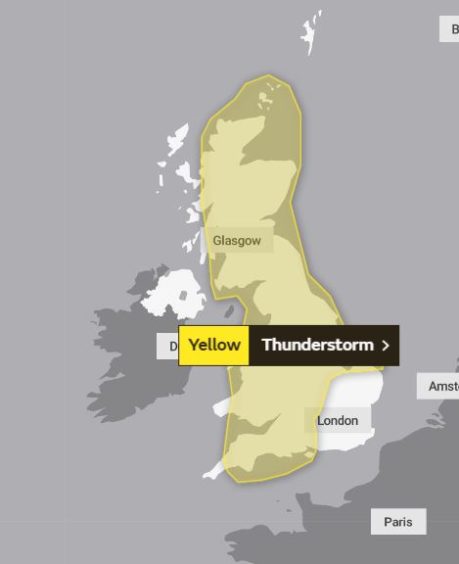 And on Tuesday afternoon the Scottish Environment Protection Agency (Sepa) issued flood alerts for Dundee, Angus and Fife.
The organisation said urban areas and the transport network will be most at risk from the heavy rainfall.
Though the worst of the downpour is expected to be "localised", Sepa says rivers could overflow and low-lying land and roads could also be affected.
The flood alerts for Dundee, Angus and Fife read: "A flood alert has been issued for Dundee and Angus.
"Thunderstorms are expected across Scotland from midnight on Tuesday and through Wednesday morning, which could cause flooding impacts in this Flood Alert Area.
"However, the heaviest showers will be localised, so not all areas will be affected. The greatest risk is if these occur over urban areas and the transport network, which could see flooding from surface water.
"This could include flooding to low-lying land and roads, difficult driving conditions and flooding of properties.
"There is also a risk of localised flooding from small or fast-responding rivers should the heaviest showers occur over these areas."
The Met Office says scattered thunderstorms are expected to affect parts of south-west and southern England this evening, moving north quickly across the UK overnight, clearing Scotland and eastern England by mid-morning on Wednesday.
The warning says: "Although some places will miss the thunderstorms altogether, where they do occur there is the potential for frequent lightning, hail and gusty winds, as well as sudden downpours in a few places."
It adds: "Scattered thunderstorms moving north tonight and early Wednesday could lead to some power cuts and travel delays.
"There is a slight chance that power cuts could occur and other services to some homes and businesses could be lost.
"There is a small chance of damage to property from lightning strikes, hail or strong winds.
"There is a small chance of a few homes and businesses likely, leading to some damage to buildings or structures."
"There is a small chance driving conditions will be affected by spray, standing water and/or hail, leading to longer journey times by car and bus."