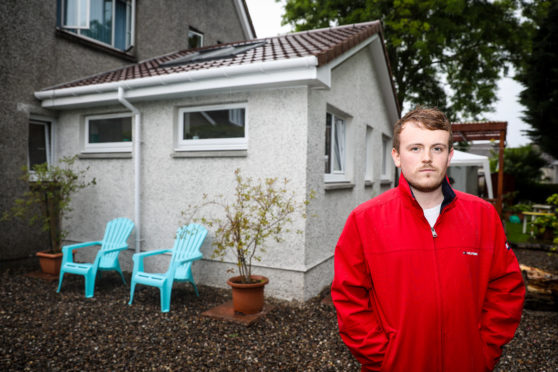 A Dundee man's home extension has landed him in a red tape row with the city council.
Officials say they can't find the safety inspection paperwork for Frankie Moran's property at Rhynie Road, so they want to dig into his foundations to satisfy themselves that everything is in order.
Mr Moran, 25, has spent more than £65,000 on the extension and says there is "no way" he will allow the local authority to interfere with his home because of a bureaucratic bungle on its part.
"If the council paperwork was in place like it should have been then none of this would have happened," he said.
Mr Moran claims a council officer carried out an inspection of the foundation and declared it fine in September last year — but the certificate can no longer be found.
It is understood the staff member has since gone on long-term sick leave.
Planning permission was granted for the development last year, and Mr Moran went ahead with the building work as soon as he received the verbal okay from the inspector.
The development is now complete, but Mr Moran was shocked when council officials contacted him to say they need to drill into the foundations of the extension in order to asses its safety in lieu of missing documentation.
He has sent them pictures taken at all stages of the construction work in an attempt to prove that everything is in place, but his attempts have failed to appease the local authority.
Mr Moran said: "We are frustrated because it's been going on for so long. I've spent a lot of time and money on getting this done. This is not a cheap extension.
"If it is the case the council worker went on long-term sick leave, then I would assume he's done the same with some other jobs.
"There's no way I'm letting them dig up my extension. As far as I am concerned, the work has been done and it is their fault the paperwork is not in place."
A Dundee City Council spokesman said it was still hopeful the two sides would reach an agreement.
"The council has to satisfy a number of legislative requirements and we are working with Mr Moran to do that," he said.