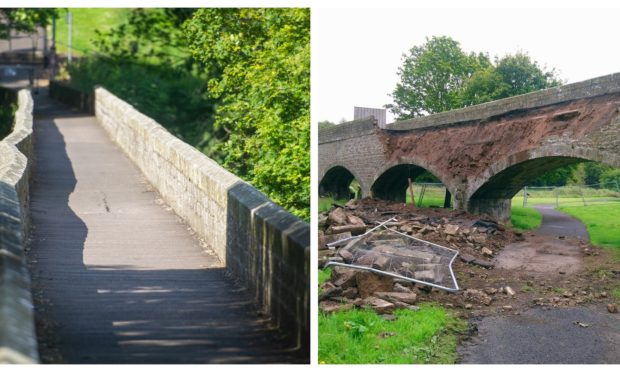 A pledge has been made that safety inspections are being carried out on local bridges after a span over the Dighty Burn collapsed.
Dundee City Council community safety convener Councillor Kevin Cordell said work is being carried out to prevent other bridges succumbing to the fate of Finlathen Viaduct.
One wall of the footbridge came down suddenly at the weekend. It had been closed by the city council earlier in the month amid safety fears because one wall was visibly bulging away from the structure.
A number of local dog walkers had reported seeing people climbing the fencing to use the bridge, despite the barriers. This prompted warnings to be put in place by the local authority.
Last weekend, after a night of heavy rain, the wall gave way, leaving bricks and debris on the ground.
In response, Mr Cordell has promised action will be taken to prevent similar incidents happening elsewhere.
He singled out the Seven Arches viaduct, known as Balmossie bridge, as an example but noted it has recently been inspected. The bridge is monitored by both Dundee and Angus councils.
Mr Cordell said: "With the recent unfortunate incident at Finlathen Bridge, it is important that people have confidence in the integrity of our older structures.
"Balmossie Viaduct is an A-grade structure and is a former rail bridge built during that great engineering era of the Victorian age.
"Identified repointing works were carried out in July 2018 to preserve its good condition and costs shared with Angus Council.
"This is a popular area for walkers, cyclists and dog walkers. Long may it it continue to be so.
"I am pleased to see the proactive nature of inspections undertaken to ensure that not only is the safety of the public not compromised but to ensure our historic infrastructures are protected for future generations."
An Angus council spokeswoman said: "Angus Council has a programme of regular bridge inspections to ensure that all bridges across Angus are safe and serviceable."
In reference to the Finlathen Viaduct collapse, a Dundee City Council spokesman said: "Further investigative survey work has started to asses the reason behind the erosion and subsequent collapse, prior to identifying the appropriate repairs.
"This means that the bridge will continue to be closed for significant period of time."