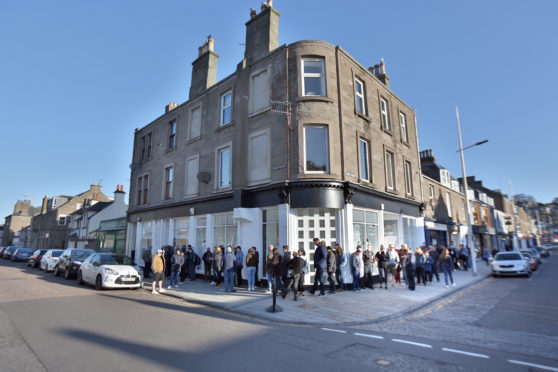 Popular Dundee record store Assai is to launch its new city centre home with a weekend of live music.
The shop, which was based in Broughty Ferry since 2015, will officially open in its new Union Street home on August 9.
Staff announced in April that they would be moving on from Broughty Ferry after an "amazing four years" to take advantage of a bigger venue.
It was later announced the new location would be in Union Street and work refitting the store has been ongoing over the last few weeks.
To celebrate the store's new home, staff have lined up some musical shows for the opening weekend.
Dundee-musician Kyle Falconer will be there on the Friday to promote a limited edition vinyl release of his single Kelly, via Assai's own record label.
The View frontman is no stranger to Assai, having played at the Broughty Ferry shop when he launched his solo album No Thank You, last year.
Edinburgh indie band Meursault will be in the store on Saturday, performing tracks from their new album Crow Hill.
Owner Keith Ingram said: "We are getting excited and everything is on track for the opening date.
"The Ferry was always a bit of trial to see if it would work in Dundee so, hopefully, with more people in the city centre, it will.
"The shop is looking really good already and will be a good bit bigger than the Ferry one. It's taken a little bit longer to get set up than we hoped, but that is sometimes the case with these things."
The Broughty Ferry store often had queues reaching around the corner as music-lovers tried to pick up special releases at the annual Record Store Day.
Other shows taking place in the Ferry store included the likes of Tom Walker and a Q&A session with Primal Scream frontman Bobby Gillespie.
Keith said the new bigger home will allow them to continue this tradition and grow on it.
"Being in the city centre, it will be a bit busier with people passing by. They might see through the window something is going on and pop in.
"And being more central, it might be easier to get bands to come by and play in the afternoon if they're already playing one of the venues, which are all in the city centre."
Assai also has a branch in Grindlay Street, Edinburgh.