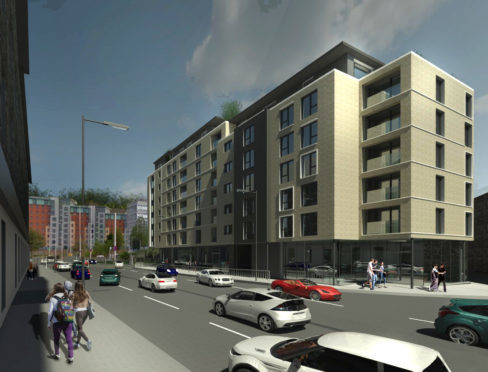 Plans for 43 new flats in Dundee city centre have been given the green light by planning officers.
The £6 million Marketgait development by Burton Design will also include space for shops and restaurants on the ground floor.
The approval follows "extended discussions" between city planners and Burton Design over the inclusion of the ground floor retail units.
The site, currently occupied by a Shell petrol station, is next to the former Henderson jute mill — one of the few Dundee mills to be designed by architects rather than engineers.
The mill was rebuilt following a fire in 1873 and is now a B-listed structure.
The new block of flats will also include charging points for electric vehicles. However only four parking spaces were proposed in the planning application.
City planners decided the flats' central location negated any negative impact of this because of the ease of access to public transport and city centre car parks.
The building will be seven floors high, with floors one to five and some of floor six making up 39 two-bedroom flats.
The remainder of floor six and all of the top level will include penthouse apartments — two of which will be two-bedroom flats and the final two will be three-bedroom flats.
The three bedroom flats will include rooftop balconies, and 22 other properties will also have balconies.
Allan Mudie, of Burton Design, said: "It's great to be granted permission for such an important building outside the waterfront.
"We aim to produce a contemporary building, using environmentally-friendly material, construction methods and energy sources."
Mr Mudie previously explained the two year negotiation was largely over the local authority's desire for the plans to include retail facilities.
Previous proposals for a hotel on the site were knocked back by city planners.
Meanwhile, plans to transform a prominent former bank on Nethergate into a restaurant have been approved.
Nethergate House, previously a Clydesdale Bank branch until its closure in 2017, will be renamed Casa under proposals approved by the local authority.
The restaurant will include an external bar, via a converted shipping container in front of the building ,to cater for "coffee drinkers, food customers and the sociable drinker".