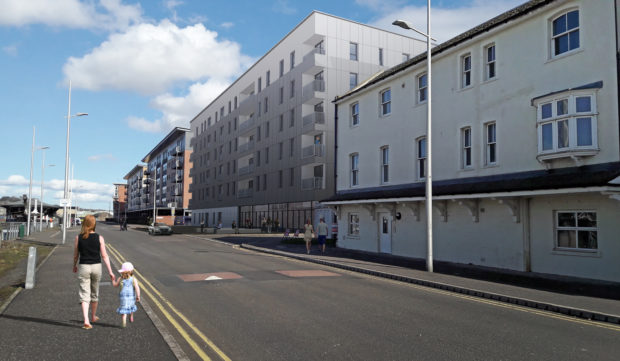 A major development featuring more than 100 affordable riverside flats is set to begin next month.
The properties at City Quay, one of Dundee's newest residential districts, will feature a mixture of 53 flats for social rent and 66 for mid-market rent, spread across two apartment blocks.
Located at the site of a former car park, the £13 million project will offer a mixture of two and three bedroom properties.
Work is expected to begin in mid-September and be completed by October 2021.
Each apartment will include a balcony with two large amenity decks incorporated into the top floor of the north block.
The development, being delivered by Hillcrest and Cullross, will also feature car parking and a potential ground floor convenience store.
Modern energy-efficiency measures will be included such as energy-saving windows and doors, gas central heating, state of the art insulation and cladding, smart meters and boilers fitted with gas savers.
Hillcrest's director of development, David Zwirlein said: "Hillcrest are delighted to be developing 119 new affordable homes in a fantastic location on the Dundee waterfront.
"Right in the heart of the city's wider waterfront redevelopment, these good quality homes will offer unrivalled views over the River Tay and back inland over the city, and will come with the latest energy efficiency measures to help tenants save on bills."
Emma Garry, consultant at Cullross added: "This is such an exciting opportunity to deliver new affordable homes in Dundee's Waterfront, only a stone's throw from the V&A, with magnificent views on to the Tay and very close to the city centre amenities.
"It really will be a fantastic place to live."
Bill Newcombe, chairman of the City Centre and Harbour Community Council, said: "It will of course cause some disruption but we hope the developers will talk to us.
"That would be part of being neighbourly I think.
"If they keep us in the loop and let us know when we will be impacted then that would help everyone living locally."
The City Quay area was created after the former dock was transformed at the turn of the century in a redevelopment by owners Forth Ports costing more than £30 million.
Over the past 20 years, it has expanded to feature a watersports and aqua park named Foxlake Dundee and £7 million office space Water's Edge — a converted shed.
It features a number of commercial and retail units as well as the Apex Hotel and hundreds of flats.