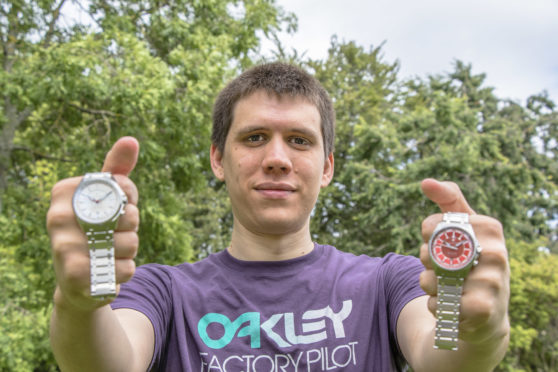 A Kickstarter campaign to see a range of watches designed in Dundee finally land on wrists has raised more than £47,000.
Philipp Schoenfisch, creator of the Wayfarer watches and designer in residence at Dundee's Duncan of Jordanstone College of Art and Design (DJCAD), said he was ticking with pride at the response so far.
Mr Schoenfisch praised the response of the public who published more than 300 comments after he first posted his designs online and helped to define the final style of the watches.
The public campaign to raise funds for the project also attracted more than £20,000 in pledges in the first two hours of being open, according to the designer.
He said: "The Wayfarer was designed in collaboration with hundreds of watch-enthusiasts, so I knew it had potential but I didn't expect it to reach twenty thousand in the first two hours. I cannot wait to see where it goes next."
The 27-year-old, from Germany, said developing his new brand Akura in Dundee was a dream come true after first falling in love with watches when he received his grandfather's old timepiece.
The company name is derived from the German 'akkurat', meaning accurate, a nod to the founder's roots.
"There are emotions and history built into watches," said Mr Schoenfisch.
"We have a golden Zenith watch from my grandfather that is now a treasured family heirloom and this happens the world over.
""You could in theory just look at your phone and never need a watch but there is a reason the watch market is still worth $18 billion and this really intrigued me.
"I wanted to know why we wear them and why it get invokes this emotional response.
"By designing the Wayfarer, I've been able to include the inspirational elements of expedition watches of the past in fresh exciting design."