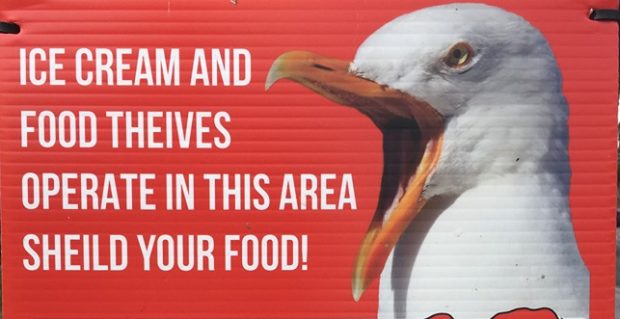 Dundee City Council has been accused of wasting public money after misspelled signs warning people about gulls were erected in the city centre.
One sign, spotted near the DCA, states: "Ice cream and food theives (sic) operate in this area sheild (sic) your food. Beware the gulls."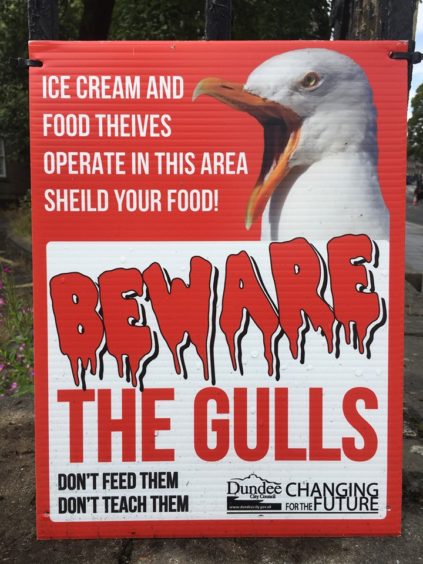 Liberal Democrat councillor Fraser Macpherson branded the effort "amateur" and said he would contact the Neighbourhood Services department to have the mistake rectified.
He added: "I'm disappointed about the lack of quality control – it looks like the seagull wrote it.
"I will be asking them to correct this and we have to ensue there are proper processes in place to avoid this in future.
"There is a cost to the taxpayer and it's wasting public money to allow things like this to happen. It's amateur and doesn't give a good impression of the city.
"In principle I have no problem with having warning signs – I get a fairly regular stream of complaints about seagulls, not only in shopping areas but also about them nesting on tenement roofs. But it's disappointing that this has been allowed to happen."
It isn't the first time the local authority has had its knuckles rapped over spelling errors.
In November, a Clepington Road resident complained after a botched paint job on her disabled parking space.
Workers had been dispatched to re-paint the faded sign, which read "disadled" after they had finished with it.
A Dundee City Council spokesman said: "We know that gulls can often be a cause for considerable distress and annoyance and we continually pursue tried and tested as well as innovative solutions to the problems that arise from these birds.
"These signs ask that people do not feed seagulls as this only exacerbates the problem."