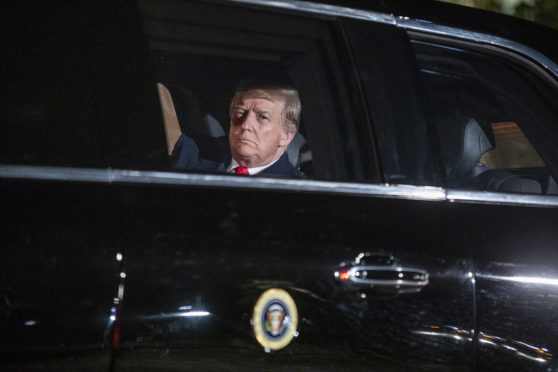 Claims by President Donald Trump that violent video games could have inspired two mass shootings in the USA have been slammed by the designer of Grand Theft Auto.
Created in Dundee, Grand Theft Auto has gone on to become one of the biggest video game franchises in history.
The game, which is only for sale to adults and is now produced by Rockstar North, has often been criticised for its violent content.
Mr Trump said violent video games such as Grand Theft Auto or Call of Duty celebrated violence and could have been partly responsible for shootings in El Paso, Texas and Dayton, Ohio last weekend.
In a speech after the murders he said: "We must stop this glorification of violence in our society. This includes the gruesome and grisly video games that are now common place.
"It is too easy today for troubled youth to surround themselves with a culture that celebrates violence. We must stop or substantially reduce this, and it has to begin immediately."
Last year Trump also blamed video games for a mass shooting that claimed 18 lives at Fort Douglas in Florida.
But Mr Dailly said there was no evidence to back up the President's claim.
While the US population is five times greater than that of the UK  – and revenue from video games is also five times as large – the number of gun-related deaths in the US is over 450 times greater than that of the UK.
In the UK in 2017 there were 31 gun related deaths compared to 14,452 in the US.
Mr Dailly, who also worked on hit games such as Lemmings, said: "This always stems from politicians looking to deflect an issue they either don't want to answer, or are to scared to.
"In this case Trump and his administration are so pro-gun, that they're refusing to admit guns are ever the problem so they'll try to blame whoever they can.
"First it was terrorists, then Muslims, closely followed by immigrants, and now gamers.
"None of them are the real problem. Easy access to guns is the problem – it always has been."
Mr Dailly added: "There's ample studies to show games do not increase violence – in fact, I'd guess it's quite the opposite.
"A simple look at countries where gaming is huge, but have low deaths by gun violence should be all the proof they need, but they need a scapegoat so that they can continue their white power, racist agenda.
"If there's one thing you can be sure of, if Trump is advocating it, it's probably wrong. "
Last year, Joseph DeLappe, professor of games and tactical media at Abertay University in Dundee said there was no "empirical evidence" to suggest video games inspire violence.