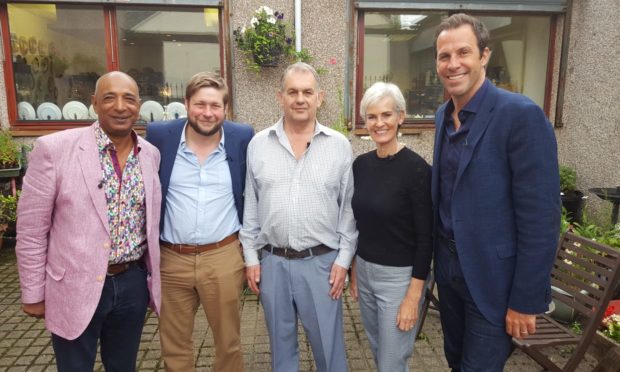 A Dundee business owner is set to become a television star for the day after receiving a visit from BBC One's Celebrity Antiques Road Trip.
Derek Pook, from Clepington Antiques and Collectables Centre, welcomed tennis aces Judy Murray and Greg Rusedski to his Byron Street store last Thursday, along with experts Raj Bisram and Angus Ashworth.
Mr Pook said a crew from STV Productions visited the centre for around three hours as the stars, split into two competing teams, pored over items from across its nine separate showrooms.
The former glass cutter revealed the teams purchased a pair of stone lions, a signed print by Scots artist Russell Flint and two vases – but refused to be drawn on how much they paid for the items for fear of ruining the fun for viewers.
He said: "It was great to have the television crew here. We've had them four or five times before at our previous premises on Clepington Road but this is the first time they've been to the centre at Byron Street.
"I think they were impressed with what we have here. We are never going to be the biggest antique centre but we have a lot of stuff and we have a lot of variety.
"It's all for charity, of course, so you tend to give them a good deal – although I would say everyone who comes here gets a good price."
A spokeswoman for STV Productions said the crew were currently out filming for a ninth series of the popular show. The Clepington Antiques episode is likely to be aired later this year.
Tennis coach Judy, who is mum to Dunblane's Jamie and Andy Murray, has received recognition for her contribution to tennis, women in sport, and charity. She appeared in the 12th season of Strictly Come Dancing in 2014.
British and Canadian sports star Greg Rusedski is a former British Number 1 and won the BBC Sports Personality of the Year Award after becoming a finalist in the 1997 US Open.
Mr Pook said he had enjoyed the experience of meeting the pair and thanked them for making the day such a pleasure.
"I got the chance to talk to both of them and they were both very nice," he said.
"Judy liked our other place before but it was nice to have her here. I think she was pleased with the amount of Scottish items we have. Greg said he would like to have some of it for his own collection.
"We get a lot of regular customers who regard us as their own centre really and they've all been talking about it. I've even been asked for my autograph a few times."