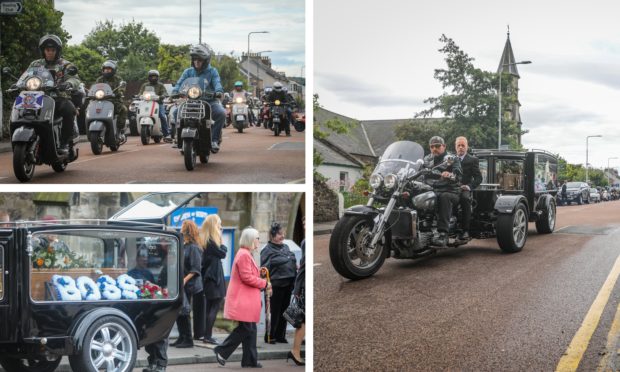 Bikers from all over Tayside and Fife gave a moving send-off to a popular Dundee motorcycle shop owner by organising a procession through the city and across the River Tay to Fife..
Andrew Hart, who ran Andrew Hart Motorcycles shop on Milnbank Road, died at his home on July 26 at the age of 85.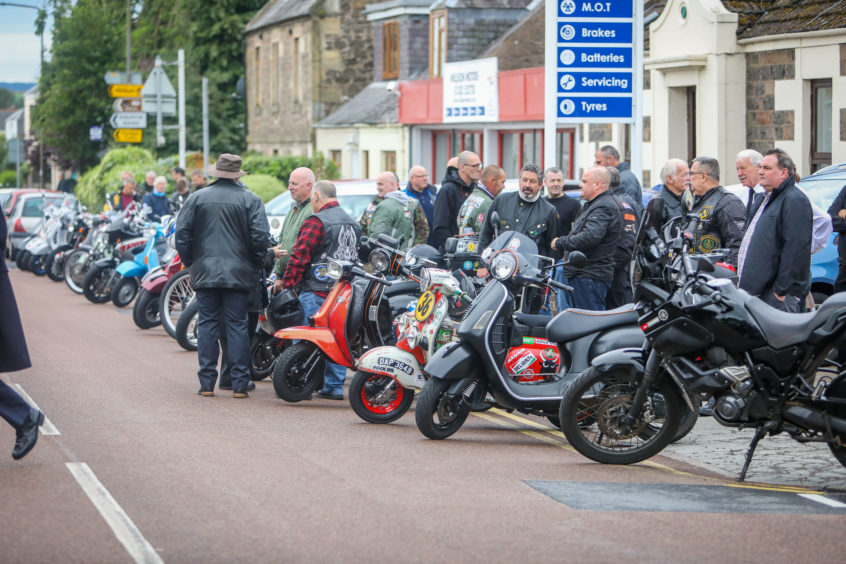 His funeral was held at Tayport Parish Church on Wednesday and was attended by around 300 people including family, friends and bikers from various clubs.
Ahead of the service, a large group of motorcyclists and scooter owners gathered outside Mr Hart's shop, which he opened in October 1962.
The group, which included friends and former customers, made their way through the city, across the Tay Road Bridge and on to businessman's hometown of Tayport for the funeral.
Motorcycles and scooters lined the approach to the church on Queen Street during the service.
The Who's Mod classic Pinball Wizard was played as Mr Hart's coffin was carried from the church to a trike motorcycle hearse parked outside.
As emotional family and friends gathered, the bikers revved their engines loudly, filling the air with exhaust smoke.
Traffic came to a standstill as the motorcyclists joined the hearse on the journey to Tayport Cemetery where Mr Hart was laid to rest.
Obituary: Andrew Hart, owner of popular Dundee motorcycle shop
Mr Hart's daughter, Elinor Hart, 60, said: "It was very emotional for me to see all these people there.
"To see all of them paying tribute like that was very moving.
"My father was very well known and was very helpful to everyone.
"He was a very sober, hardworking man – he was all about the motorbikes.
VIDEO: Procession of bikers gather for fitting farewell to Dundee motorcycle shop owner Andrew Hart
"The A92 scooter club provided a wreath as he had helped them a lot over the years.
"The whole service was perfect. There were hymns and readings including Psalm 23 The Lord is My Shepherd – his favourite – and the eulogy was a reading from the Romans chapter eight.
"He was also a big fan of The Who so the music was great."
Elinor added: "Although my dad worked a lot in the shop and was known as quiet, he led a very full life.
"He travelled to Japan and America, and at one point lived on a horse ranch in Nevada, where he had friends.
"It's been a very emotional day and it was great to see him get a good send-off."