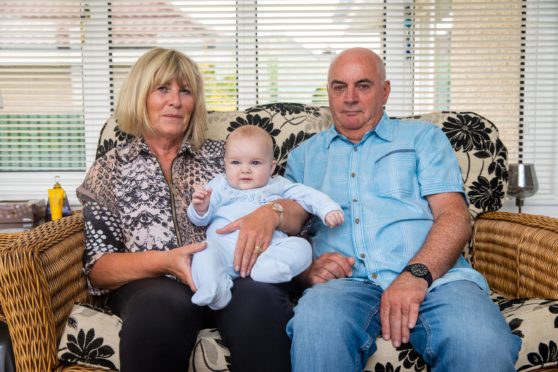 Health officials have told management at Piperdam Leisure Resort to ensure proper cleaning and maintenance procedures are in place after an inspection prompted by concerns over water safety.
An environmental health officer from Angus Council visited the Fowlis resort last month following a complaint from a family who claimed the lodge they were given was so dirty it could have posed a health risk to their baby grandson.
Stuart Anderson, 64, checked his family into a Rainbow Spa cabin at the luxury resort from June 28 but contacted the local authority after finding it had no hot water, a blocked toilet, a shower head thick with grime and a dirty hot tub area.
The grandfather was shocked to learn Piperdam was fined more than £120,000 in 2011 for a breach of health and safety legislation which led to the death of a former guest after investigators discovered legionella bacteria on a shower head and hot tub.
A letter sent to the resort's operations manager by the council following last month's visit, obtained by The Courier through Freedom of Information legislation, shows inspectors noted a number of fresh areas of concern.
The resort was told it must have a system in place in which cleaners can highlight or communicate any issues with shower heads to the appropriate team.
The council's environmental health officer said this would "include putting a standard in place for where the shower head has become so discoloured/damaged that it can no longer be cleaned and disinfected correctly".
The inspector was unable to see the cabin used by Mr Anderson on the day of the visit as it was already occupied but did view one of the other lodges. They found one shower head had a "build up of black discolouration".
The official noted four other shower heads in the property were in an "acceptable condition" and that the discoloured one was replaced on the day of the visit.
Piperdam said it is in the process of replacing all its older style shower heads and the council advised records should be kept of any changes to existing units, "in addition to the quarterly cleaning and disinfecting dates that you currently record".
Angus Council's environmental health officer was able to view the lodge used by Mr Anderson's family five days after the first unannounced inspection.
The official noted: "I revisited Piperdam on 10 July 2019 to look at Lodge 33 on change over day. When I visited the property, the shower heads were in acceptable condition."
Angus Council said it will be "working closely with the management team at Piperdam to ensure issues highlighted in the report are adequately dealt with".
The resort failed to respond to multiple approaches for comment.