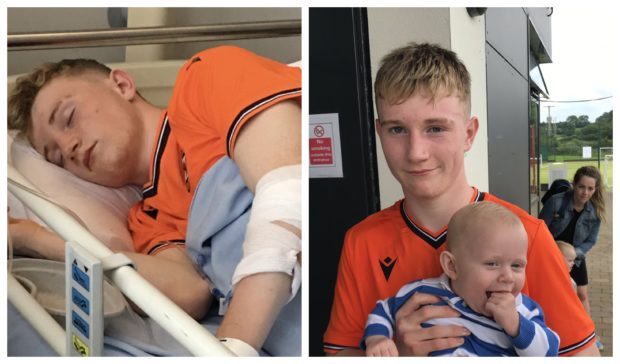 A Dundee United youth team player who suffered a horrific head clash during an international tournament has been given the all-clear.
Teenager Ryan McInnes was playing in the Super Cup Northern Ireland final in Limavady in County Londonderry on August 2 when he collided with another player during an aerial challenge.
The game was stopped for seven minutes while striker Ryan, 14, was treated before he was stretchered off and rushed to hospital in nearby Londonderry.
Six days later, the Harris Academy pupil was given the all clear on Thursday and was discharged with some nerve damage to his ear.
His dad Ryan senior, 45, said the family were relieved to get him home in one piece. He was watching the game and said he knew "straight away" that the head knock was serious.
He said: "He was conscious but was lying on the ground. He's a tough lad so if he stays down, it's likely to be serious. We were all worried.
"He was concussed of course but we weren't sure if there was more serious damage. It was a relief to get the all clear from doctors.
"We've been told it could be around four weeks before he's back to his best."
The competition is considered one of the world's foremost international youth tournaments and is still known best as its previous incarnation the Milk Cup.
Past players have included superstars such as David Beckham and Paul Scholes.
The Dundee United Academy team had been undefeated following wins over County Armagh and Plymouth Argyle and draws against Leeds and Chilean side O'Higgins F.C.
In the final, United came up against O'Higgins again and were looking set to land the famous trophy, leading 1-0, when Ryan was floored in the 92nd minute.
When the game eventually restarted, the South American side scored a shock penalty and went on to win 4-1 on in a penalty shoot-out to deny the Tangerines victory.
All of Ryan's family had travelled over to watch the tournament, which was played at four venues throughout Northern Ireland.
The contingent included mum Nikki, sister Macyjane, 12, five-month-old brother Aldo and pet pug Ribbons.
Ryan senior said the Dundee boys had done their city proud.
"The injury clearly shook a lot of the lads," he said.
"The first thing Ryan said to me in hospital when I told him the result was 'who missed a penalty'? That shows his character, he really wanted to win it. He was disappointed at the way the tournament finished.
"Some things are more important though and we're glad he's OK now.
"Unfortunately he couldn't fly because of the injury to his ear so we've had to take the long way home by ferry from Belfast.
"The club have been absolutely brilliant through it all. They've made sure he's been looked after and helped us get home."
The club has also wished Ryan well adding that his friends "hope it isn't too long before he is back playing in tangerine".