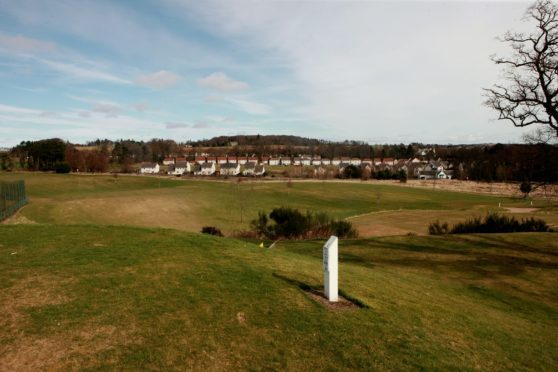 Councillors have been urged to approve plans to build 76 new homes on Ballumbie Castle Golf Course in Dundee — on condition the developer contributes more than £300,000 to extend a nearby primary school.
Stewart Milne Homes wants to construct the houses as part of an intended 150-property development on land to the east of Ballumbie Road.
The application for the southern side of the golf course will be decided by members of Dundee City Council's planning committee on Monday.
Council officers have recommended councillors approved the plans, subject to 30 conditions.
These include a Section 75 obligation to pay a contribution of £4,337.17 towards an extension at Ballumbie Primary School for each new property.
The report says Stewart Milne Homes has agreed to the payments, despite questioning the requirement.
It states: "Ballumbie Primary School was built with capacity taking in to account future housing developments in Whitfield.
"This housing site was not an allocated site at this time and as such will have an additional impact on capacity at the primary school.
"The applicant has questioned the need to contribute towards this front funded infrastructure but has agreed to meet the request for the contribution."
A spokeswoman for Stewart Milne Homes said: "Should our application be granted, we will continue to work with the community to bring through what, we are confident, will be a well-designed and attractive place to live.
"A draft section 75 agreement is with Dundee City Council."
The recommendation to approve has been made despite council officers noting that two of the properties within the development are closer together than the local authority would normally require.
The proposed homes have habitable rooms less than 18 metres — the normal minimum distance — apart.
The report states: "The application fails to satisfy the requirements of Policy 10 of the Dundee Local Development Plan in relation to privacy and window to window distances.
"However, this is not significantly below the 18 metre requirement and it only relates to houses within the proposed development where properties would be purchased from new, meaning it will not impact on any existing residents."
Bosses at Ballumbie Castle Golf Course have said they will reconfigure the layout so it retains 18 holes.