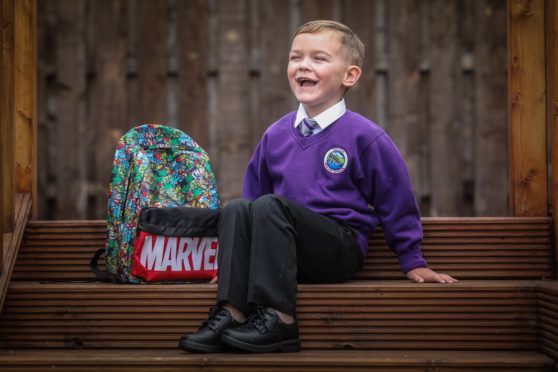 A brave Dundee boy who fought cancer will start primary school this week after having surgery to remove a rare brain tumour.
Konnor-Craig McKenzie, aged five, was diagnosed with pilocytic astrocytoma — an uncommon type of tumour — when he was just two years old.
Despite needing to wait another three years before he can be given the all-clear, the "happy" tot will start P1 at Tayview Primary School on Tuesday.
Meanwhile his mum, Zoe McKenzie, raised £620 for Tayside Children's Hospital after organising a sponsored 5k walk to thank the hospital for their help in looking after Konnor-Craig.
Zoe said:  "Konnor-Craig has been through so much – recently he had to have surgery to remove fluid from his brain, which was a complication from his surgery when they removed the tumour.
"If the fluid isn't removed in time, it could be catastrophic.
"Despite all of this he's such a happy, smiling little boy. He will start mainstream school on Tuesday and he's so excited.
"He's been a regular patient at Tayside Children's Hospital – he has been admitted 14 times since his operation and also attends the paediatric oncology clinic.
"I wanted to do something nice for the hospital to show how grateful we are for everything they do.
Zoe added: "I did a sponsored walk at Camperdown Park with my colleagues from Tesco – we wore pyjamas and carried teddy bears.  People were looking at us funny but we had so much fun.
"With the money raised, I purchased computer games and toys for the ward and a smart TV for the adolescent room.
"When children are in hospital it's really hard to keep them entertained, so hopefully this will help."
Konnor-Craig, from Menzieshill, puzzled doctors for months with symptoms such as extreme headaches and sickness.
After several months of tests they found that a tumour was pressing down on his spine, causing him to scream in pain despite being fine just moments previously.
After gruelling surgery, Konnor-Craig developed a fear of hospitals and struggled to sleep due to pain from the complications he encountered.
He is clear from cancer for the time being but won't get the definite all-clear until three years from November.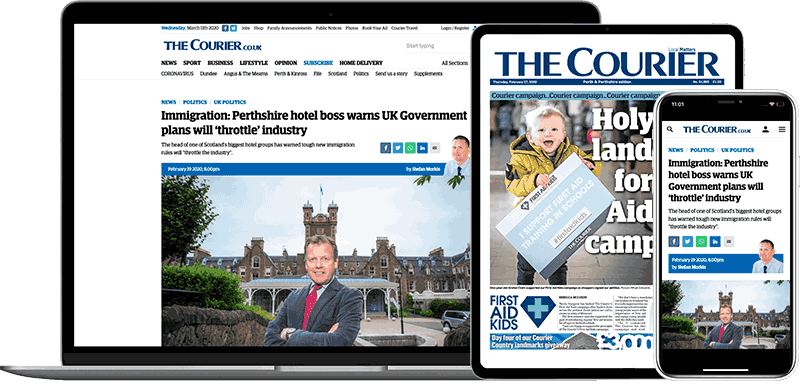 Help support quality local journalism … become a digital subscriber to The Courier
For as little as £5.99 a month you can access all of our content, including Premium articles.
Subscribe