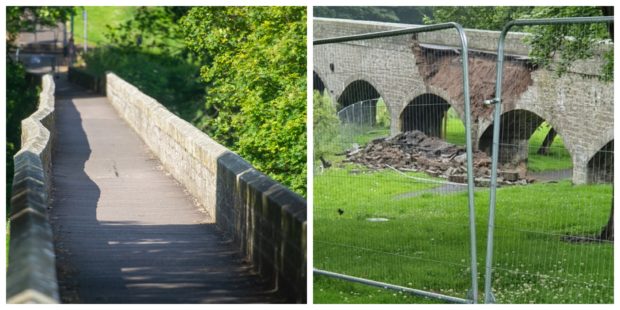 Dundee City Council has been urged to reveal what plans are in place to rebuild or replace the partially collapsed Finlathen Bridge.
Concerns are increasing as walkers are still using the viaduct, connecting Fintry to Linlathen,  despite its dangerous condition.
The bridge collapsed after heavy rainfall last month, weeks after barriers were suddenly erected around it. Fears were first raised when one wall appeared to bulge away from the structure.
But locals are still in the dark about what the local authority plan to do about the viaduct, which acts as an important thoroughfare between the communities.
A council spokesman confirmed the bridge will remain closed for a "significant" length of time.
Fintry Community Council chairman Ronald Neave said he intends to push Dundee City Council for clarity on the bridge's future in the coming days, with a meeting set up for later this week.
He said: "I think people are keen to see it open again. It has been a well used bridge.
"I don't know how they could repair it as you would be mixing old with new, but we do want to know what is going to happen.
"The councillors have mostly been away for the summer, but that's them all coming back now so we're hoping to get an answer soon. We'll certainly be pushing them for one.
"We are where we are, but the council really should have been maintaining it a bit more. Maybe once or twice more a year might have saved it."
Mr Neave is worried that if no action is taken one way or another soon that someone might get hurt.
"I've seen some young folk still using the bridge, even after its collapse," he added.
"If someone is injured it will be their own fault, of course, as the barriers are there, but it still wouldn't be good."
A Dundee City Council spokesman said: "Investigative survey work has begun on assessing the reason behind the erosion and subsequent collapse of Finlathen Bridge, prior to identifying the appropriate repairs.
"This means that the bridge will continue to be closed for a significant period of time."
The bridge was built by Dundee Water Company in around 1844 as part of a pipeline to bring water from Monikie Burn to Stobsmuir Reservoir, next to Stobswell Ponds.