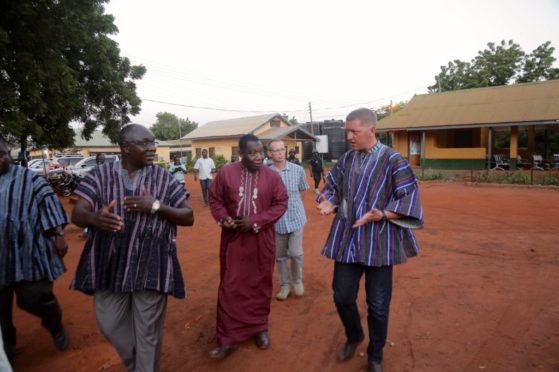 The Dundee-born UK High Commissioner to Ghana has completed a 1000km charity bike to raise money for health-related initiatives.
Iain Walker began cycling from the north of the country, with a colleague, on Friday and completed the gruelling challenge on Sunday.
Delighted to reach the Black Star Square finish line, sad that I won't cycle again tmrw.

I've learned so much on this journey: about Ghana, about the people of Ghana, & about myself.

Thanks to everyone for your support.

Ghana is Grand.#TheGhanaGrand ??????#partnership pic.twitter.com/WDepjmTxvi

— Efo Kordzo Walker ???????? (@walkeriain) August 18, 2019
He has raised £30,000 for a hospital's burns unit in Accra, Ghana's capital, as well as visiting different communities to talk about healthy lifestyles and raise awareness of the High Commission's role.
Iain also documented his journey, the Ghana Grand, on Twitter, to showcase the country as a visitor destination.
#TheGhanaGrand aims to show a positive vision of Ghana to the world, and enable different conversations about health, tourism & our environment.

I know it will be a significant challenge. I hope you will be a part of it: watch this to see how ??? pic.twitter.com/9lpb20feOA

— Efo Kordzo Walker ???????? (@walkeriain) July 9, 2019
Iain said: "I was delighted to reach the finish line and I've learned so much on this journey.
"In short, my role is to represent the UK in Ghana.
"The aim was to visit people in their communities and try to show what we do and who we are, to facilitate a conversation.
"The UK has been working for decades with Ghana on healthcare.
"Ghana is a very forward thinking country in a lot of ways but there is still stigma attached to mental illness, with people believing it's a curse, and we want to address that.
"We've had such a good reception in every place we've visited."
He added: "I also wanted to show Ghana as a place for tourism, to show the positive side through documenting our journey.
"A lot of what you read about Africa negative – it's all about poverty, instability and terrorism.
"But Ghana is a beautiful country with amazing people."
Iain explained his bike ride took him from the dry, arid plains in the north to the savanna in the central belt, towards green areas of subsistence farming and mountains in the south.
He added: "This challenge was also about encouraging people to push themselves.
"I'm not a professional cyclist, although I do keep myself fit.
"Finally, the money we've raised will go towards the burns unit in Korle Bu hospital in Accra.
"Burns are a particular problem here because a lot of poor people, particularly in rural areas, use old gas canisters for heating and cooking, often resulting in injury."