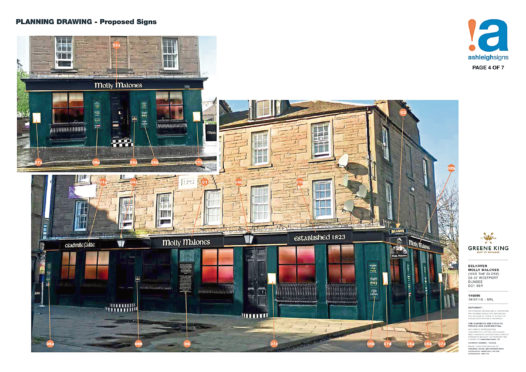 Changing the name of a historic West Port pub would be a "real loss to Dundee",  it has been claimed.
ing PLC, which owns the Globe, plans to upgrade the premises and is considering changing its name to Molly Malone's.
The company has insisted no final decision has been taken, but it owns another, Irish-themed, pub in Glasgow with the same name.
Now West End Liberal Democrat councillor Fraser Macpherson has written to Nick Mackenzie, the chief executive of Greene King, imploring him to save the Globe.
He said he was speaking on behalf of many constituents who have contacted him to express great concern at reports that the name might vanish lost from the city's streets, although he cannot comment on planning issues before the case has been heard.
"Whilst investment in the public house is, of course, to be welcomed, there is a real strength of feeling that the loss of The Globe, given its long history, would be a huge and avoidable loss," he said.
"I do hope Greene King PLC will give full consideration to the voice of the community and retain the Globe name.
"The Globe has existed for more than a century and to rename the public house would be a real loss to the city and its history.
"It is easy to throw away what is really valued by the community in a re-branding exercise and I hope that does not happen to the Globe."
Mr Macpherson said the Globe was not the only traditional pub under threat of losing its historic identity.
He said he had heard similar concerns at reports that the Campbeltown Bar, also in the West End Ward, might be renamed Mary Ann's.
"That too would be a mistake," he said.
"If the owners are looking for suggestions for the name of the Campbeltown Bar as they say they are, I suggest keeping the name the Campbeltown Bar as, again, the loss of the long-standing name would be a real shame."
Plans submitted to Dundee City Council earlier this month appeared to show the Globe premises with the name Molly Malone's and a revamped exterior similar to the Glasgow pub.
At the time a spokeswoman for the brewer said it was planning a six-figure investment in the Globe, adding: "We have considered changing the pub's name as part of the transformation but no firm decision has been taken on this yet."