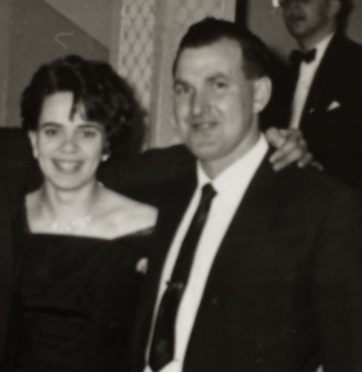 Angus Smith, who grew up in Broughty Ferry and spent his last few decades in Dunfermline, has died aged 81.
He passed peacefully in Abbotsford Care Home on August 5.
Angus was born on April 19 1938 to parents Alexander and Jeanie Smith and was brought up in Broughty Ferry. He was one of six children, having three brothers and two sisters.
Angus took a keen interest in water from a young age and joined YeABBA — Ye Amphibious Ancient Bathing Association — where he and friend Dennis Sullivan competed together.
The pair would go on to coach and be boatmen for younger swimmers at the club.
Angus won the Tay Swim three successive years from 1956 to 1959 and went on to swim for the club in both Torbay and Windermere.
He was introduced to his wife-to-be Maureen Dorward by his younger brother John. A running family joke included Angus teasing John that he would "never forgive him for giving me this life sentence".
On March 25, 1964, Angus and Maureen married in St Rules Parish Church, Monifieth, and went on to enjoy 55 years together.
The couple emigrated to New Zealand soon after. There, Angus was one of the engineers involved in the construction of Manapouri Underground Power Station — a renowned engineering achievement in the country.
Angus and Maureen returned to Scotland in 1968 with their young daughter Iona, living in King Street, Broughty Ferry, before moving to Monifieth. There, Angus and Maureen had two more children, Andrew and Jason.
About 20 years ago, the family moved to Dunfermline when firm NG Baileys left Dundee, so that Angus could continue his career as an electrical engineer.
When Angus retired he stayed in Dunfermline and took up gardening, competing with neighbour and friend Brian to be the better tomato grower.
Maureen died nearly two years ago. Angus is survived by his three children and four grandchildren — Aiden, Luke, Joshua and Jamie.
The funeral will take place in Dunfermline Crematorium on Monday August 19. All friends and family are invited, with donations to Alzheimer Society and Dementia UK welcomed.