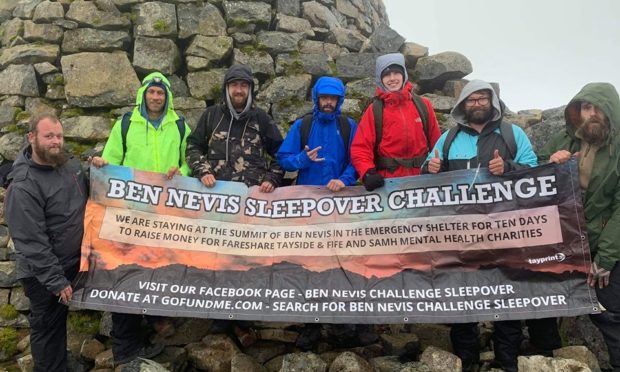 Two Dundee friends have cancelled a planned 10-day sleepover atop the UK's highest mountain after discovering the shelter 'filled with human faeces'.
Ross Nicoll, 28, and Steven Thompson, 30, trekked up Ben Nevis on Saturday morning in the wind and rain and planned on staying there until Tuesday August 27.
They had raised almost £500 for Fareshare Tayside, which redistributes food to the needy, and the Scottish Association For Mental Health (SAMH).
But after one night in the emergency shelter near the summit, the pair called it quits, saying the facility was inhospitable.
As well as containing vast amounts of human waste, they said the shelter was leaking large amounts of rainwater.
Ross's mum Alison Nicoll, who has been in regular contact with them, said she received the news they had descended to the bottom on Sunday evening.
She said: "They are both very dejected.
"The challenge has been postponed now until next year.
"They cleared three carrier bags of human faeces from the shelter and there was more.
"The shelter is leaking and in need of repair.
"They are contacting John Muir Trust about this and sending a video of inside the shelter.
"They are going to propose to John Muir Trust that they help repair it."
The Dundonians also had to cancel a previous attempt at the end of July after some volunteers who were due to help carry supplies to the summit couldn't make it.
They chose Fairshare, the UK's largest charity fighting hunger and food waste, as a beneficiary as Ross works there and Steven volunteers there a couple of days each week.
A support group of four which included Ross' older brother Craig had helped them carry supplies to the top.
The pals had put a huge amount of preparation into their challenge having packed porridge, pasta, soup and army rations to keep their strength up, as well as supplies of water.
The emergency shelter was built on top of the ruined walls of the old observatory tower, a prominent feature near the summit.
It was constructed to aid those caught out by bad weather.
Although the base of the tower is slightly lower than the true summit of the mountain, the roof of the shelter overtops the trig point by several feet, making it the highest man-made structure in the UK.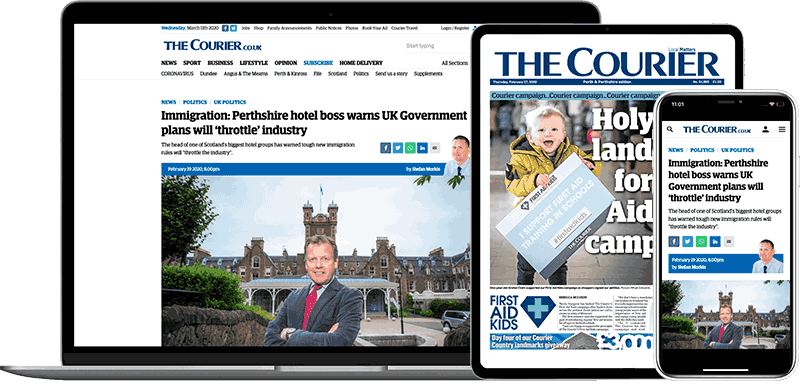 Help support quality local journalism … become a digital subscriber to The Courier
For as little as £5.99 a month you can access all of our content, including Premium articles.
Subscribe