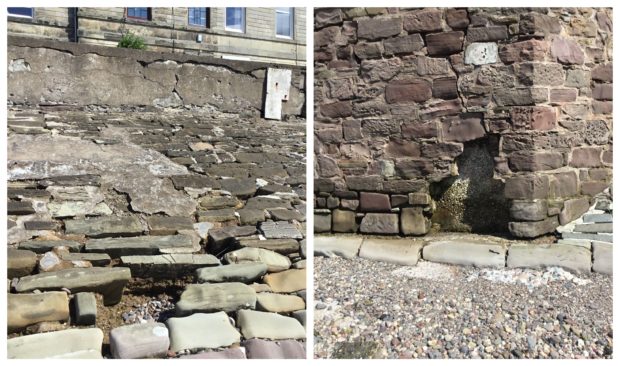 The council has promised a soon-to-be upgraded sea wall is fully secure amid concerns over its deterioration.
Pictures show chunks of stone in a section of the Broughty Ferry wall at Douglas Terrace along to the lifeboat shed have become loose or have fallen.
The wall, used as a flood protection measure, is continually repaired, usually using concrete to fill in the gaps but the whole stretch is due to upgraded by early 2020.
Douglas Terrace resident Ian Stewart said he had noticed deterioration for some time and hoped it would still be fixed before the major works started.
He said: "My fear is that the weakened sea wall leads to severe damage to the road. You can see it's in bad condition.
"I just hope that it's being looked at. It needs to be repaired before the new sea wall is built."
Douglas Terrace was recently closed to allow for emergency repairs after severe flooding at the start of the month.
A section was completely submerged after underground pipes overflowed while struggling to cope with the huge amount of rainfall.
Broughty Ferry councillor Craig Duncan said he believes some of the damage is likely to have been caused by the heavy rain and flooding.
He said: "I'm told by the council it is still secure.
"I regularly walk that stretch of beach myself to check on the condition of the sea wall.
"I fully understand that it doesn't make sense to carry out expensive repairs just a few months before the work starts.
"Residents, drivers, pedestrians and cyclists need reassurance that everything is still safe though.
"Looking at it, you can see why people are concerned.
"I have noted several examples of damage and reported these to the council. Some but certainly not all may be attributable to recent volumes of water cascading off the roadways.
"It is imperative that the integrity of the existing wall and the safety of carriageway and safety of the footpath users be preserved."
A spokesperson for Dundee City Council said: "Council officers have responded to Councillor Duncan and assured him that the locations will be inspected and if necessary repaired."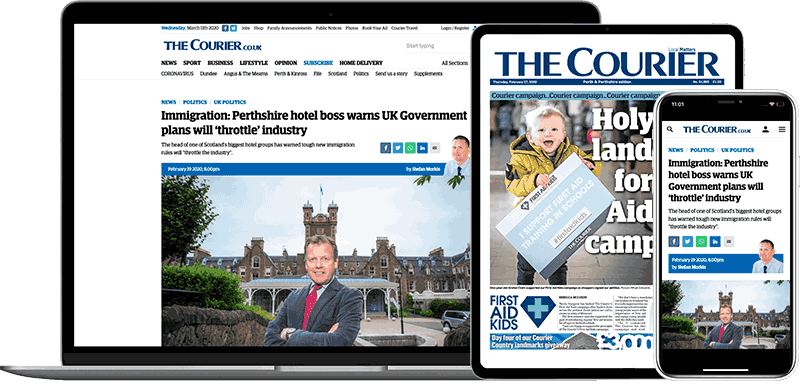 Help support quality local journalism … become a digital subscriber to The Courier
For as little as £5.99 a month you can access all of our content, including Premium articles.
Subscribe