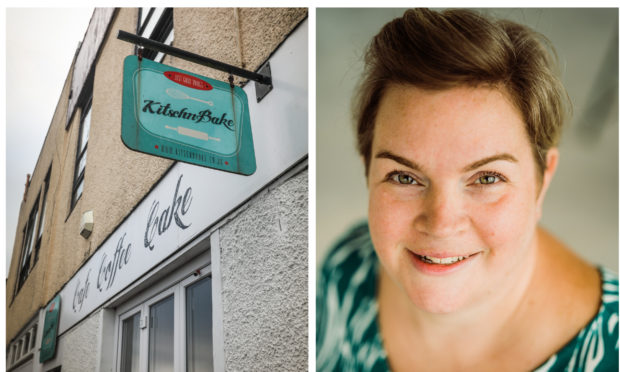 The owner of an award-winning Newport cafe is looking for someone to take over the reigns following her cancer diagnosis last year.
Mary-Jane (MJ) Duncan, owner of Kitschnbake coffee shop and the first ever ambassador of The Courier Menu Food and Drink Awards, has operated the popular business since 2013 and won a string of awards.
Ms Duncan revealed this week she is looking to take a step back from the cafe because cancer treatment is "beginning to take its toll" and is now looking for a buyer who is prepared to run Kitschnbake with its "staff, customers and ethos at the heart of their plans".
The business originally started as a cake supply firm in 2010 and has built up a loyal customer base. Ms Duncan said she had been "overwhelmed" by the level of interest already but will not be rushing into a decision.
"The potential buyer will need to be someone who shares the same 'more than profit' ethos that we have always championed here at Kitschnbake," she said.
"While we obviously have to operate as a business, we have also immersed ourselves into the community making sure we give back as much support as we get.
"The staff and customers are like family to us and we want to hand the keys over to someone who will welcome them in the same way they welcomed us."
Ms Duncan confirmed the cafe will continue to operate as normal until a buyer can be found and said a deal will only be done "if everyone and everything is secure".
She stressed that it had "never been our style to put ourselves before the staff and we won't be starting now". Employees, who have known about plans to sell for some time, were credited by Ms Duncan as a "wonderful form of support and source of comfort".
The businesswoman, who has become a central figure in Newport's food and drink scene, also pledged to continue her involvement in the industry – and possibly even keep on the Kitschnbake name if the new owner decides to rebrand.
Ms Duncan said: "We'll happily investigate all options but Kitschnbake will not be redundant even if the new owner chooses not to take on the brand.
"We have lots of ideas for moving forward and just because I believe it's the right time to consider selling the cafe, it's certainly not the end of my career or involvement in our thriving local food and drink industry.
"I need to slow down slightly, not retire, especially for the sake of those nearest and dearest. We have been overwhelmed by the level of interest so far, especially considering the calibre of those making enquiries."