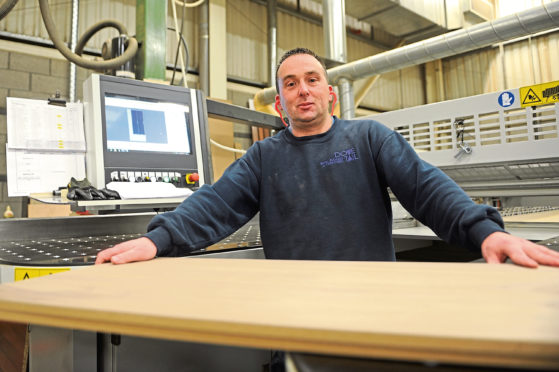 It might sound peculiar, but when I pass an industrial estate I don't see warehouse after bland warehouse.
Instead I wonder what is inside and what people are doing to eke a living.
In Dundee, we have some great examples of companies doing the unexpected.
On Perth Road in the confines of an old university building lies a small business, Star-Dundee, which is playing a central role in modern space travel.
I don't pretend to understand the technology they are designing.
But I know that NASA, the Japanese Space Agency and the European Space Agency all want it in their spacecraft and that's good enough for me.
Then there's Halley Stevenson's site at the old Baltic Works in Annfield Road.
If you could peek inside you would see flaming torches being put to raw cotton before the material is soaked in wax.
It sounds mad but it's all for a purpose.
Up at Dover Fueling's site at West Pitkerro, a fly -on-the-wall would see a highly coordinated dance climaxing in the near magical appearance of a petrol pump at the end of the production line.
In years of writing about companies on this patch, I have had the privilege to witness everything from potato crisp waterfalls, to pregnancy test production labs, digital design studios and a vertical farm concept where plant growth is controlled by a LED light show.
But few places have got under my skin quite like Dovetail Enterprises.
It occupies a huge factory space at Dunsinane Industrial Estate and produces the highest quality mattresses, furniture and fire doors from its on-site manufacturing facility.
If you have never heard of Dovetail, Apex Hotels has. The Queen has too, but that's a story for another day.
Dovetail is exceptional because it produces top quality goods while providing employment for a significant number of disabled workers.
That presents challenges that competitor companies just don't have.
Dovetail has blind or partially sighted workers using industrial scale sewing machines to stitch mattresses together and using complex wood cutting equipment.
They have workers with physical impairments building cabinets and painting finished units.
And they have showroom and sales staff – some with hearing loss and other issues – out in the market, competing hard on cost and quality.
A peek inside the walls of Dovetail is fascinating.
It demonstrates ability, not disability.
But now, after more than 150 years of trading in various guises and more ups and downs than a rollercoaster, Dovetail is facing significant operational challenges of its own.
A proposed new owner has pulled out of a deal, leaving the company in limbo and workers fearing for their jobs.
Dovetail is a place of work but it is also an inspirational place, the likes of which we need more of not less.
It would be a tragedy if a resolution could not be found.