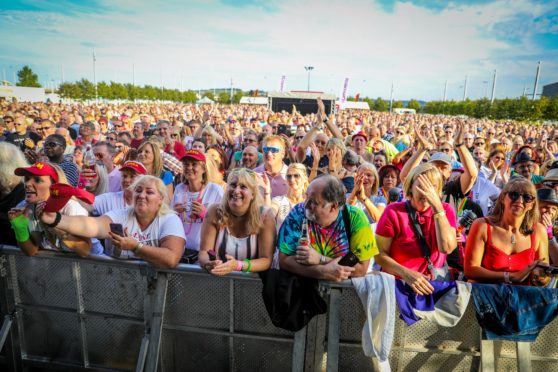 A Fife woman has said she will not return to Dundee's Slessor Gardens for a concert after organisers lost an "expensive" bottle of perfume.
Norma Crawford, 51, travelled with a friend for the DunDee 80s concert at the outdoor venue at the weekend.
Big names such as Midge Ure, ABC and Hue and Cry were some of the acts that thrilled the crowds.
However, Norma's experience was tainted before even entering the venue when security staff confiscated a £50 bottle of Jean Paul Gaultier perfume.
There have also been complaints that there was not enough toilets on site, with reports of there being large queues to use the facilities.
Norma said: "I was told the bottle could be used as a weapon. They actually used that word.
"I don't know anyone that would break up a bottle of perfume to use it as a weapon.
"When I went back to the security desk after the concert, they couldn't find it. In front of us was a women pointing willy-nilly at bottles and saying it was hers. It didn't look like the security were really checking that against the tickets.
"I don't know if it was given to someone else by mistake or actually stolen by the security people, but the system in place clearly doesn't work."
Norma, from Crossgates, has said she will contact organisers Liz Hobbs Group for a claim form, as she was told there was not available at the time.
"I was told they didn't have one there," she added.
"I go to a lot of concerts, but I won't be going back to one by them now. It's a shame as I hadn't been to Dundee in years and was thinking it was all looking really nice these days, but it ended up being a frustrating day for a lot of different reasons."
Norma also said there were numerous people "lying about" intoxicated at the concert and was frustrated that the screens at the side of the stage were not turned on until the penultimate act.
A Liz Hobbs Group spokesman said: "We have received some excellent feedback about DunDee 80s on Saturday.
"Dundee once again embraced the concert and rose to the occasion in true 80's style.
"We'll continue to look at ways to improve the customer experience, and respond to any feedback from concert goers directly."