SNP bosses have been urged to apologise and withdraw "offensive" claims in an official campaign leaflet that the party has scrapped parking charges "at all NHS-run hospitals".
Homes across Scotland have received campaign material endorsed by first minister Nicola Sturgeon outlining 184 ways the party are "improving everyday life".
In the leaflet, Ms Sturgeon states the SNP is "proud of our record" but opposition politicians have accused bosses of peddling "blatantly false" information over a claim parking fees have been removed from all NHS hospitals in Scotland.
Number 26 on the list of suggested improvements states: "Parking charges at all NHS-run hospital scrapped – saving patients and staff around £27 million."
The Scottish Government has discontinued the practice of charging for parking at most publicly-run centres but fees still remain in place at Ninewells Hospital in Dundee and the royal infirmaries in Glasgow and Edinburgh.
From baby steps to giant leaps, 184 ways we're improving everyday life in one handy foldout flyer. Discover the full list of @theSNP government achievements here: https://t.co/HQDIHF5Lw5 pic.twitter.com/yBLO2u9OTd

— Peter Murrell (@PeterMurrell) May 21, 2019
In March, it was revealed patients and staff at Ninewells will have to pay for parking for another decade after it emerged there were "no plans" to buy out the remainder of the 30-year PFI contract to run the car park.
The private firms contracted to manage parking at Ninewells have raked in millions of pounds in profit from the scheme since 1998.
One resident, who received the SNP leaflet at his Broughty Ferry home, said his first instinct was to "throw it straight in the bin".
He said: "I was shocked to see it written there so blatantly. There has been a lot of talk about the charges at Ninewells.
"Every time you have an appointment or have to go there for whatever reason, you have to pay. To see them claiming they have abolished all charges is just wrong and actually quite offensive."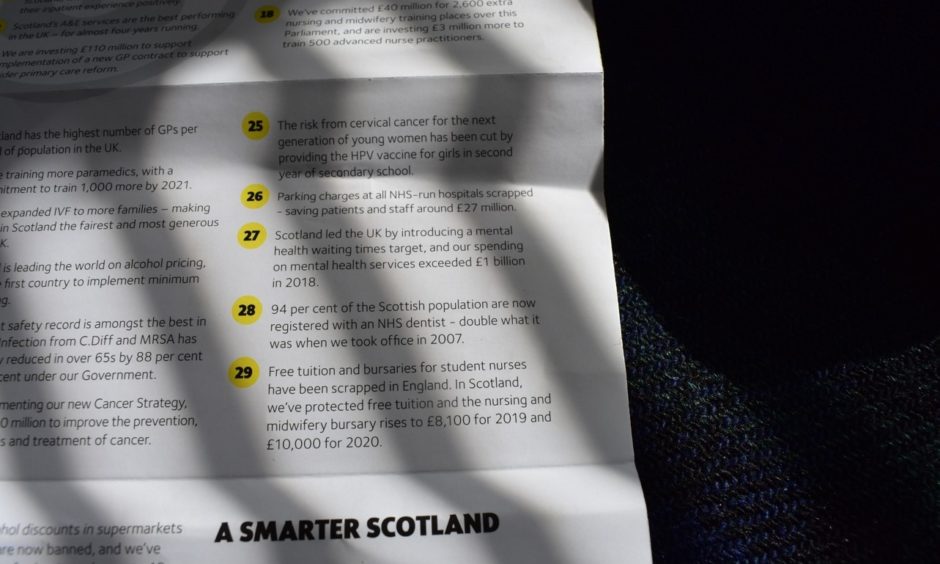 Dundee-based MSP Jenny Marra launched a private member's bill last year in a bid to have the "unfair" parking charges removed from the three remaining hospitals.
She said: "The SNP promised to make car parking free across Scotland but broke that promise in Dundee.
"For the past 12 years we have continued to pay for parking at Ninewells hospital and they have never shown any willingness to sort that out. Any claims to the contrary are simply untrue and should be withdrawn."
North East MSP Bill Bowman said the SNP should "apologise to people who use Ninewells and send a retraction immediately".
"I'm glad the SNP think they have done so well at saving Scots money," he said.
Cost to buy out Ninewells parking contract 'easily less than £1 million'
"This has obviously been at the expense of thousands of people in Tayside every year who are still paying parking charges.
"A junior nurse or sick pensioner? Don't worry – the SNP have apparently fixed these unfair fees for you. This claim is so blatantly false it should give people wonder what else is wrong."
An SNP spokesman said: "This leaflet, delivered across Scotland, highlights the SNP's strong record of progress – including scrapping parking charges at all NHS-run hospitals.
"Unfortunately, thanks to the obsession of previous administrations with short-sighted and poor value PFI contracts, Ninewells was locked into a 30 year deal which sees patients and staff continue to pay parking charges.
"That's just one of the reasons the SNP abolished the use of bad value PFI deals."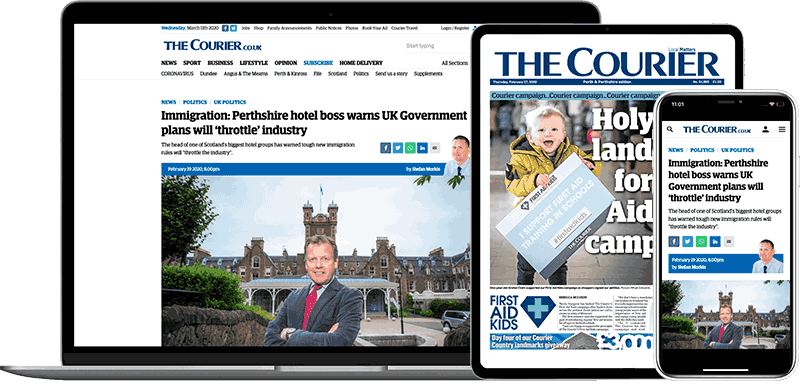 Help support quality local journalism … become a digital subscriber to The Courier
For as little as £5.99 a month you can access all of our content, including Premium articles.
Subscribe