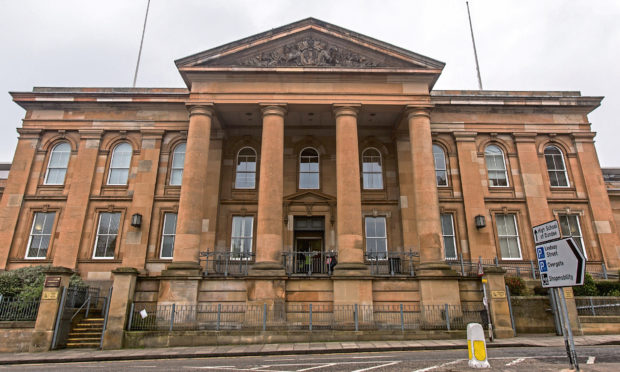 A man claiming to be a "candid" photography enthusiast followed schoolgirls around Dundee city centre and took covert pictures of them for five years.
Craig Smith, 43, amassed a collection of 10,738 images and videos, many of which focused on young females' legs and buttocks.
Between 2010 and 2015 he photographed girls at the Overgate, on Perth Road, at cafes, takeaways, pedestrian crossings and on public transport.
Smith, of Dudhope Gardens, also downloaded indecent images of children.
When they seized his electronic devices, police found explicit chat logs in which Smith asked females how young they were, as well as e-mail accounts with names such as "daddy the pervert".
He told police he did not have an interest in children and did not know the ages of the youngsters in the images he downloaded.
Fiscal Depute Saima Rasheed said: "Police received intelligence that indecent images of children were present on his devices.
"A search warrant was executed. Officers found a black iPhone, memory card and a laptop.
"There were 625 deleted images of young adults, predominantly females, using the pedestrian crossing at The Hub student accommodation.
"Several incidents can be seen where he follows females and is taking photos. The subjects were not aware they were being photographed."
Thousands more images and videos were discovered on other devices showing young women and schoolchildren being followed around the city, sometimes in a car.
Some were given file names such as "posh daughter", "denim shorts" and various  descriptions referring to the girls' buttocks.
Officers also found explicit search terms relating to "teens" in Smith's online history.
Ms Rasheed added: "In relation to the photos the accused took, he said photography was a hobby.
"He stated to police 'These were candid photos I was taking. I thought it was within the law, they weren't sexually motivated'."
Smith admitted a charge of breaching the peace by taking photographs and videos of females without their knowledge and consent between August 13 2010 and May 23 2015 on Perth Road, the Overgate, The Hub, Hawkhill, Guthrie Street and elsewhere.
He also pled guilty to making, or permitting to be made, indecent images of children between September 9 2018 and March 22 2018 at Dudhope Gardens.
Sheriff Lorna Drummond deferred sentencing until October 2 for background reports, placed Smith on the sex offenders' register and released him on bail.