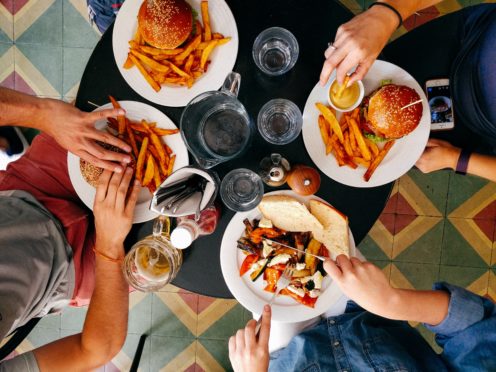 The reputations of many Tayside businesses are being tarnished with "unfair" and "out-of-date" hygiene ratings, it has been claimed.
Over 160 Dundee cafes, takeaways and restaurants are currently deemed to fall below the council's expected standard of cleanliness, while in Angus, the figure is 29.
If a business has "not achieved an acceptable level of compliance with requirements of food hygiene law" they will be given an "improvement required" rating.
Data online however reveals many of the negative ratings remain years on from the initial inspections, despite many of those claiming to have addressed the issues quickly.
In total, around 10% of the roughly 1500 places serving food and drink in Dundee have the rating, while in Angus, it is 3%.
Some business inspections were last carried out over a decade ago, such as one in Arbroath dating from 2003.
Dundee City Council says it is up to businesses to request a revisit once the issues have been remedied, adding that there is "no evidence" any are requesting revisits and not receiving them.
Angus Council said it prioritises inspections for 'high risk' businesses, for instance, ones which sell hot food, rather than those that sell pre-packed food.
West End councillor Richard McCready said he believes the system is flawed.
He said: "It does bring in to question the usefulness of the information.
"I think the idea behind it is that people use it to decide on where to go out for a meal, get a takeaway or grab a coffee.
"If the information is for instance 18 months out-of-date like it is for some places in my West End ward, how does that help inform?
"The good name of the business is being questioned. Have they improved things or haven't they? We don't know.
"I have spoken with a business in the past who said they'd been given this rating but addressed the issues within a week.
"Six months later they're still on the naughty step. I think it's very unfair."
The data shows one establishment in Dundee has not received an inspection for eight years, while the last time several others were inspected was 2017.
Though most are establishments selling fresh food, some are businesses such as newsagents and community facilities.
Craig Duncan, councillor for Broughty Ferry, added: "People need confidence in the quality of hygiene in the city's food establishments.
"If places aren't being inspected for a long time then I think that needs to improve.
"The council say businesses should call them to arrange a re-inspection but how many know that?
"As a broad principle, these ratings should be up-to-date and it's the council's responsibility."
Mr Duncan also says the lack of enforcement means some places will be ignoring the improvement requirements, putting public health at risk.
The hygiene scheme was developed by Scottish Government agency Food Standards Scotland (FSS).
The body said the inspection results give consumers "an idea of what's going on in the kitchen, or behind closed doors, so you can choose where you eat or buy food".
Businesses are assessed on hygiene practices, the structure of their establishments, equipment and the implementation of food safety management systems, from paperwork, to staff training.
Angus Council also operate an Eat Safe Award scheme for businesses who have achieved standards over and above the legal requirements.
Ian McWatt, deputy chief executive at FSS, said it is the responsibility of local authorities to carry out hygiene inspections.
Asked if there is a timescale for when premises must be re-inspected, a Dundee City Council spokesperson said: "During our inspections we always seek to provide as much information and assistance as possible to the owners and operators to help them improve their standards.
"We direct resources in a risk-based manner and have a full inspection completion rate of premises which have the highest risk scores.
"There are 1546 food businesses in Dundee. Over 800 are scheduled for inspection and more than 320 revisits are carried out each year. There is also a significant turnover of food business operators and new food businesses opening across the city.
"The food hygiene information scheme guidance states that the immediate remedy for all issues that result in a status of Improvement Required is in the hands of the food business operator.
"Businesses that have carried out the works required in council officers' letters should request a revisit once these are fully completed so that the premises' scheme status can be re-assessed. There is no evidence that businesses are requesting revisits and not receiving them."
A spokesperson for Angus Council said: ""Food law inspections in Angus are carried out in line with the Food Law Code of Practice Scotland. The Code is issued by Food Standards Scotland and is implemented by all Local Authorities in Scotland.
"Businesses are assessed in line with the risk rating scheme specified in the Code and this ensures that businesses with the highest food safety risk are inspected more regularly.
"Currently, Angus Council officers do not inspect businesses where the very lowest risk, or negligible risk applies (those that are E-rated).
"This is consistent with the majority of other authorities in Scotland and ensures that resource is prioritised.
"Examples of businesses with a very low or negligible risk are newsagents, pubs with wet sales only and grocers selling wrapped, pre-packed food."