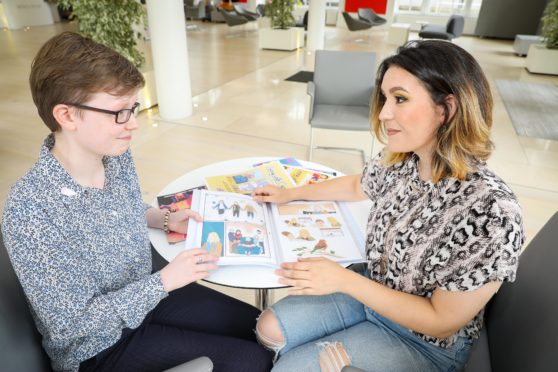 When Ashling Larkin's mother was diagnosed with cancer, her life changed forever.
The previously carefree art student suddenly found herself buried in treatment information and medical jargon.
But before her mum died just months later, the 25-year-old from Dundee vowed to do something to make the daunting cancer world less scary for other people.
Over burgers with friend and fellow artist Catriona Laird, the idea for the Comics Help Inform People (CHIP) Collective came to life.
The pair have dedicated the last year to creating an easy to read book of stories about cancer and its treatment, illustrated as a comic, Living With Cancer: Our Stories, to make it suitable for people of all ages and abilities.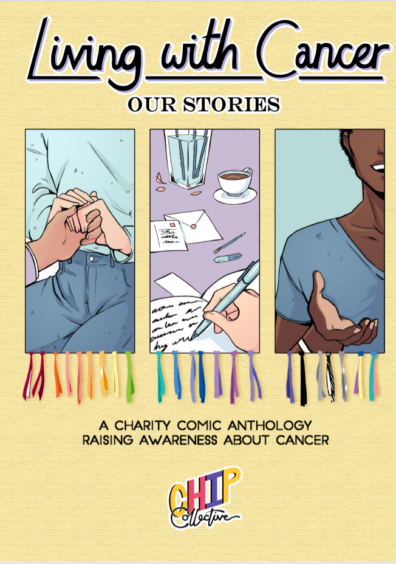 Ashling said: "One of the things I found when we were going through my mum's cancer was there wasn't a lot of information and emotional support readily available.
"We were finding information but at the wrong time, so by the time we found out what we needed to know the cancer had progressed past that stage.
"When we came up with the idea we decided on comics because it's an easy way to take in information.
"Sometimes if you have a wall of text it can be overwhelming and hard to absorb all of the information. Comics break it down into easy to understand chunks. What makes comics so good is people of most learning abilities will be able to read it.
"For a topic like a cancer which is so serious and upsetting, it can be difficult to talk about and explain. If you're a mother trying to explain the illness to your young children it will hopefully make it a bit easier."
A fundraising Kickstarter campaign has now been launched to print the 44-page comic and donate it to schools, libraries and health centres. It will also be used to pay the artists and cover other costs such as shipping. Any profits made after costs will be donated to Cancer Research UK.
It includes six stories from cancer victims, their families and medical professionals, all written and illustrated in comic-book style.
They have been designed by seven artists, as well as Ashling and Catriona, both former students of Duncan of Jordanstone College of Art in Dundee.
The crowdfunder has made £2,647 so far but donations made through Kickstarter are only paid out if the final goal is reached so if CHIP does not raise £6,200 by September 25, the comics will not be printed.
If it is successful, Ashling and Catriona will consider a second comic, either a sequel to the cancer stories or challenging another sensitive issue.
Catriona, 27, from Newport, said: "We could have made a whole graphic novel just on one story but that's not really the point.
"We wanted a bunch of stories so we had to cut back some of them, even though they were intensely interesting.
"I helped create CHIP Collective because there are people who need their stories to be told but don't have voices to say it.
"I want to give them that voice and confidence through my artwork and tell their tales as they intend."
"We talked about a second one about living with cancer because there are so many stories which are so unique. We talked about LGBT issues, homelessness, any issues which could benefit from information in this format."
One of the stories in the comic will be about Ashling's mother, Walkiria Larkin, who died of glioblastoma multiforme grade four, an aggressive brain cancer, in February last year – just seven months after she was diagnosed.
"Mum was very involved in the project before she died and very optimistic about it," she said.
"Her story also includes my perspective at the end, explaining how thankful she was for all the support she had.
"When you're living with cancer you can be in a really dark place so we wanted to include the medical stories to bring back hope. In one of them the woman talks about therapy and the strides that have been made in research. She explains that there is a whole army of people trying to improve cancer research who are behind you 100%, every step of the way. Having that support from someone in that profession could be very helpful going through cancer."
CHIP is offering rewards to Kickstarter backers. Depending on how much is donated, rewards include an acknowledgement in the comic, a copy of the book and posters of some of the artwork.
Donations can be made at www.kickstarter.com/projects/chipcollective/living-with-cancer-our-stories
The stories:
·  Naomi's journey, drawn by Sara Julia, of her diagnosis of brain tumour astrocytoma grade two in her second year of university, and going into remission.
·   Carly's story, drawn by Eve Greenwood, about her work as a band five children's nurse in bone marrow transplant, explaining her work duties and relationship with her patients
·  Ann's story, drawn by Elliot Balson, about her experience her mother's death from ovarian cancer in the 80s, how cancer treatment was for them then and how she keeps her mother's memory alive today
·  Vesna's story, drawn by Jules Valera, of her experience working as a cell biologist, explaining how cancer treatment has evolved over the years and explaining how immunotherapy is being currently being researched for cancer treatment
·  Raj's story, drawn by Catriona Laird, of his journey with his diagnosis of Hodgkin's Lymphoma in the 90s and his recovery
·   Walkiria's story, drawn by Ashling Larkin, about her diagnosis of Glioblastoma Multiforme in 2018, the services she had access to and her thankfulness to the people around her who supported her until the end.
·Illustrations by Rebecca Horner, Sarah Holliday, Mairi Isla, Catriona Laird & Ashling Larkin