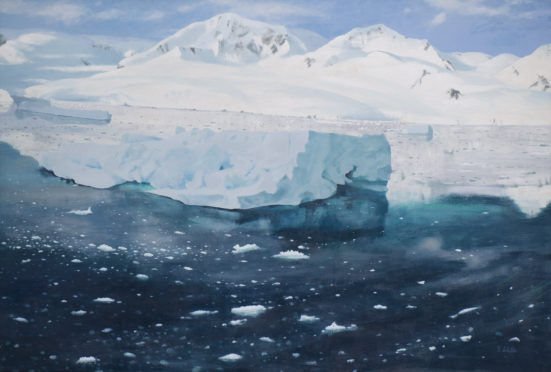 A new exhibition, showcasing the fragile landscapes of the north and south poles, opens in the McManus Galleries.
Among The Polar Ice presents chilling paintings from artists who have experiences of the extreme environments.
The show combines a contemporary and historical collection of work spanning 200 years.
Two major series of artworks by leading Scottish artists, France Walker and James Morrison have been mounted, following their journey through the Antarctic Peninsula and Canadian Arctic Archipelago.
The images offer a visual record of the diminishing ice caps.
Dundee's extensive history of polar exploration also features, including the work of William Burn Murdoch, who accompanied the explorer William Spiers Bruce on the Dundee Antarctic Whaling Expedition in 1892.
Sinclair Aitken, chair of Leisure and Culture Dundee, said: "During this year when issues of global warming have never seemed so urgent, these artworks remind us of the importance of these remote landscapes to our very fabric of life."
Visiting Tayside on Friday, Culture Secretary Fiona Hyslop, said: "This is such an impressive exhibition and I would encourage people to come and visit it.
"The Arctic remains one of precious resources we have in the world and with the climate emergency that is upon us, this shows how important it is. It may seem remote, but this brings it home to us.
"There is still a chance to stop this climate emergency and exhibitions like this are important to show why it is worth saving."
Ms Hyslop also visited to Angus to see the Arbroath 2020 project to mark the 700th anniversary of the Declaration of Arbroath.
She said: "It's great to see the latest with this important project. I have had the privilege of seeing the original document. It is very fragile so it can't really be moved.
"It is such an important document, not just to history of Arbroath, but to Scotland as well. It reflects our sovereignty."