VIDEO: Piers Morgan labels Dundee tourist hotspot 'grim car park' as Good Morning Britain presenters slag off city
Piers Morgan described one of Dundee's most popular tourist areas as a "grim car park" on live TV on Monday morning.
Good Morning Britain's Andi Peters was at Discovery Point to launch a competition worth more than £120,000 to viewers, prompting presenters on the ITV breakfast programme to have a dig at the City of Discovery.
Morgan and fellow host Susanna Reid took advantage of the handover to Peters to make a few jokes at Dundee's expense at about 7.30am.
Former Daily Mirror editor and Britain's Got Talent judge Morgan suggested his co-worker's visit to Tayside might signal "the end of days" for his career.
During the exchange Peters was stood at a vantage point which looks out on to two of the city's most iconic attractions in the RRS Discovery and V&A Dundee.
Morgan said: "Someone who normally likes flying to glamorous hotspots of the world and giving us competitions from lovely glamorous places is today in rain-soaked, freezing cold Dundee trying to flog us a car.
"Andi, I kind of feel like this is the end of days for you. It's like you've gone from Mauritius beaches to what looks like a grim car park in Dundee.
"And on one level it is sad on the other level it is absolutely hilarious because you look ridiculous."
At one point co-presenter Reid butts in to ask: "Have we run out of budget?"
Only @piersmorgan could describe Captain Scott's world-famous RRS Discovery and V&A Dundee as a "car park". Pretty amazing car parks we have in Scotland… pic.twitter.com/YOdMchOsv3

— Daniel Cook (@drdanielcook) September 9, 2019
@GMB @piersmorgan @susannareid100 has Piers visited Dundee recently? Massive change and investment, from Dundee and proud of it!

— Laura Hepburn (@hephopbeebop) September 9, 2019
And Peters did little to defend Dundee in his rebuttal.
Before flogging the ITV competition, which offered up £80,000 in cash and a £41,000 Mercedes car, he said: "Yes the gravy train has finally pulled into the last station.
"I do appear to be in Dundee and stranded because there's a British Airways strike so I can't come home. So tomorrow I'll be live in Edinburgh.
"But it doesn't matter because I've still got an amazing prize worth over £120,000."
The comments came ahead of V&A Dundee's anniversary on September 15.
Meanwhile, a war of words erupted on Twitter after Scottish broadcaster and journalist Lesley Riddoch questioned whether the V&A was "boring" and called it a "disappointment for Dundonians".
In response, football pundit and newly installed Dundee University rector Jim Spence lamented the "envy of metropolitan provincialism".
Was only a matter of time before the envy of metropolitan provincialism reared it's head. https://t.co/HTH7TmOMnk

— Jim Spence (@JimSpenceSport) September 8, 2019
He said: "(It) was only a matter of time before the envy of metropolitan provincialism reared its head.
"My entire life I've listened to ignorant folk having a cheap shot at the city of Dundee.
"To achieve the success the V&A has achieved in its infancy is testimony to its popularity.
"Dundee as a city and the V&A, like anywhere else, can always learn and improve, but both will continue to go from strength to strength despite the views of parochial pundits."
V&A bosses declined to comment.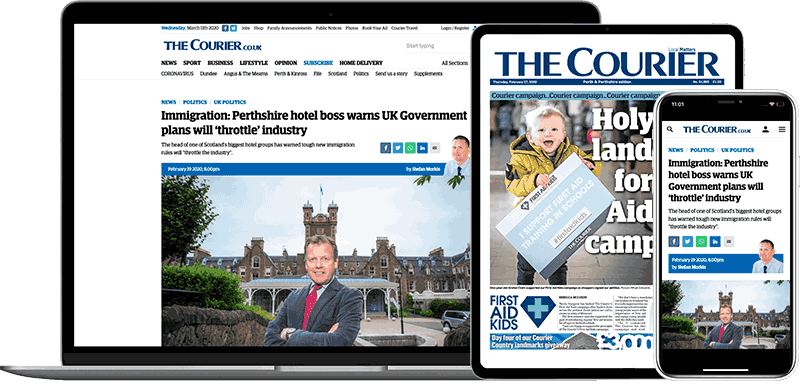 Help support quality local journalism … become a digital subscriber to The Courier
For as little as £5.99 a month you can access all of our content, including Premium articles.
Subscribe