A historic Dundee library turned a new page yesterday after a £700,000 upgrade.
The refurbished Coldside Community Library opened its doors on to the community after six months of work.
Improvements include a new lift, accessible toilets, hospitality facilities and new interior decorations.
Funded by Dundee City Council, the new features in the listed building also include new lighting, meeting rooms, library counter, flooring, refurbished windows and painted railings outside.
Judy Dobbie, head of library and information services at Leisure and Culture Dundee, was excited to welcome people to the new-look building.
She said: "This has been a well-liked library for many years, but it has been looking very tired so we have not been able to do as much events as we would like. This refurbishment helps that.
"We look forward to welcoming more authors and historians for talks."
One of the upcoming events is an appearance by local historian Erin Farley, who will discuss the history of the building on October 16.
Coldside Library is one of five commissioned in 1901 for the city. Business magnate Andrew Carnegie offered Dundee £37,000 for four branch libraries and a central reading room.
Coldside Library was designed in 1906 by architect James Thomson. It was one of the first free libraries in Dundee.
The building has had a colourful history as it was used as a communication base during the Second World War. It was also home to Dundee BBC, where radio broadcasts were made — sometimes including contributions by library staff.
One of the first visitors through the doors to see the freshened building was Theresa Simpson, who travelled from Carnoustie specifically to see it because she used to live in the area.
She said: "It's the first time I've been here since the '50s. I wanted it to be the same, in a way, but I would say they have done a great job."
Another early visitor was Mark McGowan, who used to work in the library.
He said: "I am so pleased that this building is in good condition and with how it looks now."
The first people to sign up to the library after reopening was Danny Chen and Xin Li, who registered their one-year old child Lucas Li.
Danny said: "I like the look of it and the colours of the rooms. It's very nice."
Also among the new features is an improved meeting area for people looking for advice for things such as benefits.
"A library is more than just about books," Judy added.
"Over the last five or 10 years, we have been inundated with people excluded from society.
"They can come here to meet with social workers or health care workers and get some expert advice for debt relief, for example."
Alan Ross, convener of the council's city development committee, said: "I am pleased to see one of Dundee's most historic libraries after a significant upgrade.
"The improvement works have ensured that this iconic library is fit for the 21st century."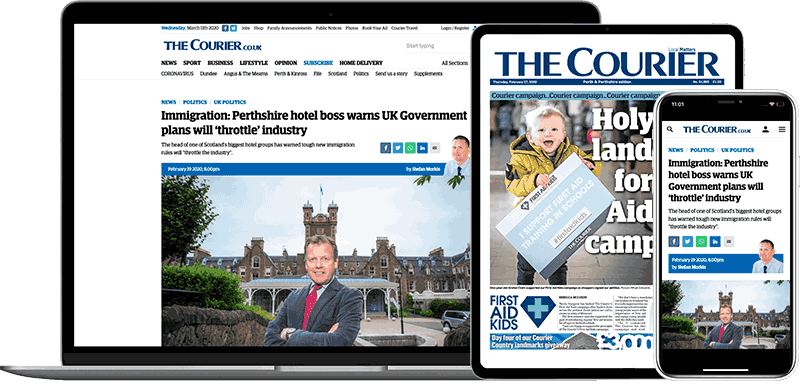 Help support quality local journalism … become a digital subscriber to The Courier
For as little as £5.99 a month you can access all of our content, including Premium articles.
Subscribe