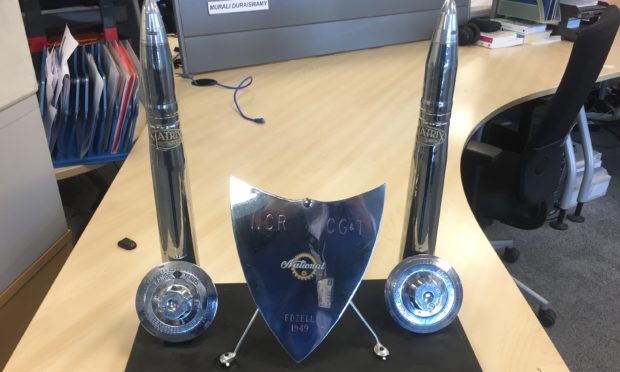 A long-forgotten golf rivalry could be resurrected after more than 70 years following a delve into the history of a trophy once competed for by two well-known Tayside businesses.
It is believed the prize, which was discovered recently, was last awarded after a tournament in 1949 between staff at electronics and cash register manufacturer NCR Dundee and Brechin-based Coventry Gauge and Tool.
The latter business, now known as Matrix International, is a leading designer and provider of electromagnetic clutches and brakes but was contracted by the UK Government to make munitions before the Second World War.
The work appears to have informed the design of the unusual trophy, with two shells used as uprights and dials from a launch device included as decoration.
A shield at the centre of the trophy, which was provided by NCR alongside supporting golf clubs and balls, appears to confirm the competition took place at Edzell Golf Club, but little else is known about the particulars of the tournament.
The prize has remained at NCR's Fulton Road offices ever since but the firm will put seven decades of bragging rights on the line after challenging Matrix International to a rematch at Downfield Golf Club on September 20.
Jack Mannion, production management director at NCR, who set down the challenge, said: "We have been modernising some of the office space and coming across a lot of things that have been on display over the years and this was one of them.
"It's quite bizarre looking and people have been constantly stopping to have a look. Initially, I thought I'd give it to one of the groups in here who play golf but then I started to look into the history.
"It's sat here for 70 years so I'm sure Matrix will be quite keen to take it back up the road to Brechin with them.
"A few of the guys playing on the day have retired so I'm going to ask them if they know anything about its origins and hopefully we might learn a bit more about it."
An international competition that saw student female golfers from St Andrews University compete in Japan has also been resurrected after 33 years.
The University sent a team of eight undergraduates to tour Japan against a combined Japanese ladies university team in 1986, which resulted in a draw.
A team from Keio and Waseda universities will visit St Andrews this week to play a series of three matches over Kingsbarns, the Jubilee and the Castle golf courses for the Swilcan Quaich trophy.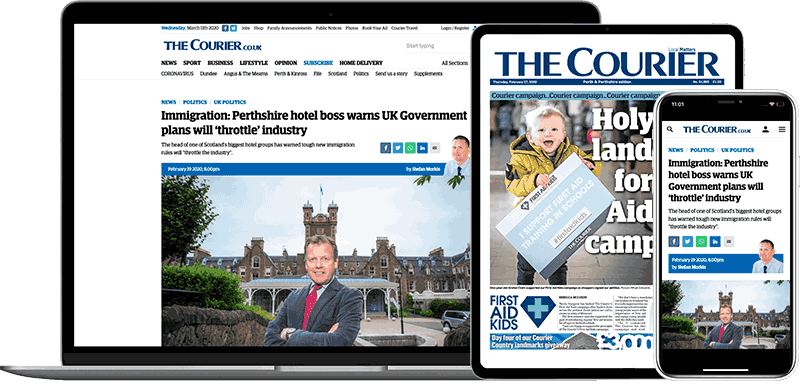 Help support quality local journalism … become a digital subscriber to The Courier
For as little as £5.99 a month you can access all of our content, including Premium articles.
Subscribe