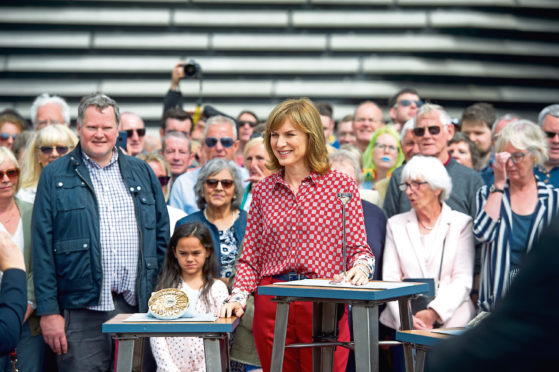 The first episode of Antiques Roadshow filmed at V&A Dundee will air on Sunday evening.
Host Fiona Bruce and experts filmed the show at the museum and in Slessor Gardens in June.
Items featuring on Sunday include a silver bowl found at a car boot sale, a Vivienne Westwood jacket and some rare SAS medals.
Filming took place in June, with thousands of people flocking to the £80 million museum to discover if their family heirlooms were secret treasures.
Thousands queue up to see experts as Dundee hosts Antiques Roadshow
Among those queuing up was David Roy, of Coupar Angus, who had a painting signed "Nelson".
He said: "It's been excellent. We came looking for information on a family heirloom and we received it.
"It's been really good fun. There was several thousand people here and we have enjoyed talking to the other people.
"We have met some very interesting people and part of the fun has been chatting to the other people in the queue and getting their stories.
"It has brought people in from all over Scotland and it has put Dundee on the map as well."