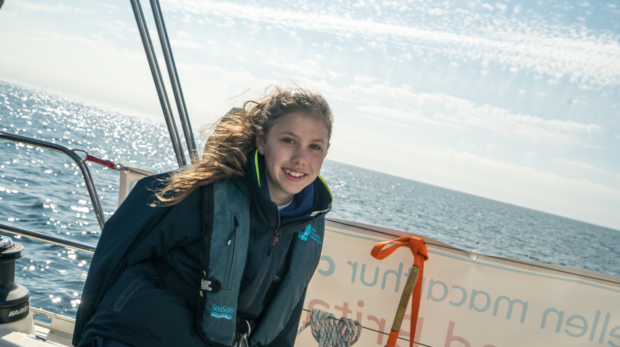 A Dundee girl who was diagnosed with cancer when she was 10 has spoken out about her experiences of batting the illness.
Brave Elita MacFarlane, now aged 13, was told she had renal cell carcinoma, a type of kidney cancer, in 2015.
At a time when children her age were looking forward to secondary school, Elita began gruelling treatment at Ninewells Hospital.
The teenager has not let her illness hold her back and has taken part in sailing trips on the Firth of Clyde with the Ellen MacArthur Cancer Trust.
She has now finished treatment after relapsing in 2018 and wants to share her story as part of Childhood Cancer Awareness Month, taking place throughout September.
Elita said: "I felt horrible during the treatment.
"Nothing can prepare you for it. I've had a relapse and knowing what treatment was like from the last time actually made it worse. I knew what was in store.
"I found out that my cancer had returned just before Christmas last year so it ruined Christmas for me and all the get-togethers that friends had.
"I did feel a bit left out seeing my friend having fun without me but I was too sore most of the time to care.
"My close friends were very supportive and understanding."
She added: "I'm worried all the time that the cancer will come back again soon.
"Every time I get an ache or a pain my immediate thought is that my cancer is back again."
The sailing trips have proven a lifeline for Elita and she has been on four so far, as part of the Return to Sail programme for young people aged eight to 24 to help them adjust to life after cancer.
Elita is now strong enough to go back to school, where she has been something of a celebrity.
"I found that everyone wanted to be my friend now because I was the girl with cancer", she said.
"It was good to see my friends and my teachers and to try to get back to 'normal'.
"I also love the sailing trips. We always get onto the topic of cancer and it's good to hear other people's stories.
"Everyone knows what it's like. You're not different there, you're normal.
"I know that there are always people now that I can talk to no matter what happens in the future."