A Tayside university has hit on strange way to attract new students – throw them into the same gruelling conditions Scotland's rugby team will face in the World Cup.
Sports scientists at Abertay University have built a high-tech training tent that recreates the 33 celsius, 70% humidity environment the boys in navy blue will face when the  tournament kicks off in Japan this weekend.
The Abertay team hopes to show how the university prepares its own athletes and researches the effect of difficult environments on sports stars.
Dr John Babraj, a lecturer in Exercise Physiology, said: "It is an environmental tent where we can control completely the temperature, humidity and altitude of the athlete.
"You sweat, but there's no evaporation as the air is already saturated with water.
"You then sweat more and your core temperature rises. This means you lose more fluid and that you're going to dehydrate and get cramp. You'll also fatigue.
"This allows us to look at how the body responds and whether they can sustain performance or not."
The ninth rugby World Cup will kick off in Tokyoon Friday when hosts Japan take on Russia.
It is the first time a country in Asia has hosted the tournament and much has been made of the effect of the heat and humidity, especially on the players from colder climes.
Dr Babraj said the tent has allowed them to prepare athletes to compete in much the same way as the Scotland team will have got ready to take on group opponents Japan, Russia, Ireland and Samoa.
"The first game for the Scottish team is in Yokohama. The average temperature is 30 degrees with 70% humidity. So we've recreated that in the tent with sprints on a bike that mimic rugby game play."
He said the tent has already helped one of their students adjust to the kind of environment she will face in Turkey for Scotland Under-21 hockey international.
"Outside of actually going to and training in a country, the tent is the best way to help an athlete acclimatise to harsh environments.
"And these kind of hands-on demonstration always goes down well at our open days," he added.
The Abertay University Open Days, on Saturday September 28 and Wednesday October 23, will be the first time the tent has been shown off to the general public.
Scott Marshall, a sports science technician, spent a few months building the tent.
He said: "It adds another dimension to the learning experience. They don't just read about it in the textbooks, but with this they can actually get involved and feel what the temperature and humidity is like."
COMMENT: 'Nothing on a cold morning at Duffus Park…'
It's time to face facts. At 38 and playing for the Howe Crusaders in the lower leagues of Scottish rugby, Abertay University's high humidity training tent is the closest I'm going to get to feeling like a pro in Japan.
I'm faced with a sinister black and shiny silver construction on arrival that appears better suited to prepping astronauts than have-a-go-hero hacks.
"You'll pull me out if it goes wrong?" I ask Dr Babraj, who is fiddling with a worrying number of sensors, buttons and other assorted boffinry.
"Of course," he says, ushering me inside.
But how hard can it be really? I mean, it's a bit sweaty, bit wet, but it's 80 seconds riding a bike. I'm used to a freezing cold Duffus Park in Cupar on a winter's afternoon. This should be easy, right?
Wrong. After three sprints my legs are gone and I'm struggling to draw breath. Four and the sweat is lashing in my eyes. With the fifth comes a long blast of nausea. And the final three go by in a blur of pain and the kind of muttered words you will rarely read in The Courier.
Rugby has always been a tough game, but for the Scotland players in Japan it's about to get a whole lot tougher.
That said, injuries happen in rugby world cups. So if Scotland boss Gregor Townsend is reading – I'll keep my phone on.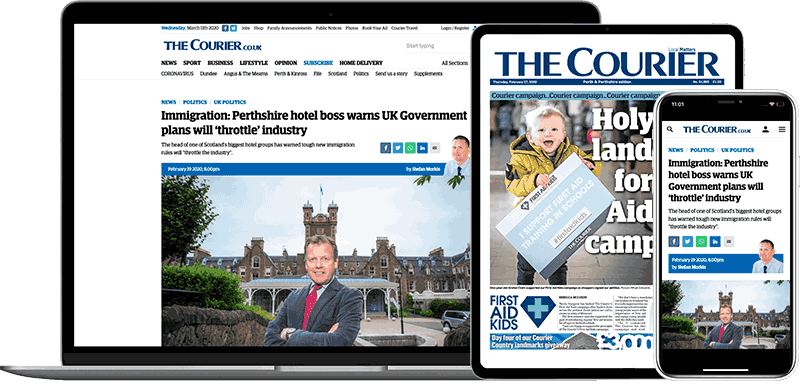 Help support quality local journalism … become a digital subscriber to The Courier
For as little as £5.99 a month you can access all of our content, including Premium articles.
Subscribe