"Let's go!" — Passion and energy as hundreds of pupils gather in Dundee for climate strike
Hundreds of school pupils have gathered in Dundee to support a global protest against climate change.
The demo in the City Square is one of thousands taking place across the planet as people stage a global day of action.
Hundreds of pupils have gathered in #Dundee City Square for a #ClimateStrike #schoolstrike4climate pic.twitter.com/lMxy9bnp8l

— Richard Rooney (@C_RRooney) September 20, 2019
Dundee High School pupil Alex Fish, 17, received loud cheers when he gave an impassioned address, telling protesters they had to be "f*****g relentless" in pushing for action.
He said: "The reason I'm here is that the climate crisis is real. There's no other way of getting round that.
"It's a problem for everybody and no-one seems to be accepting that. Governments and people all over the world seem to be ignoring the issue and that's why we're here today — to try to get something done about it."
Matteo Bell, 17, said: "I'm here today because so far governments across the western world are ignoring the effects of climate change, sweeping it under the rug like it's an issue that doesn't exist and ignoring the voice of young people who want to do something about it."
Praising the turnout by Dundee pupils, he added: "It's incredible to see and it gives you hope for what the people are going to be able to do.
"We have come here today and it's a small step in a process in which we can have our political opinions heard."
Matteo continued: "This is an issue which people everywhere are discussing at my age. It's all over social media. There's discussion on every platform.
"It's an issue we're worried about … It's a true passion that people my age have for the planet and for stopping climate change."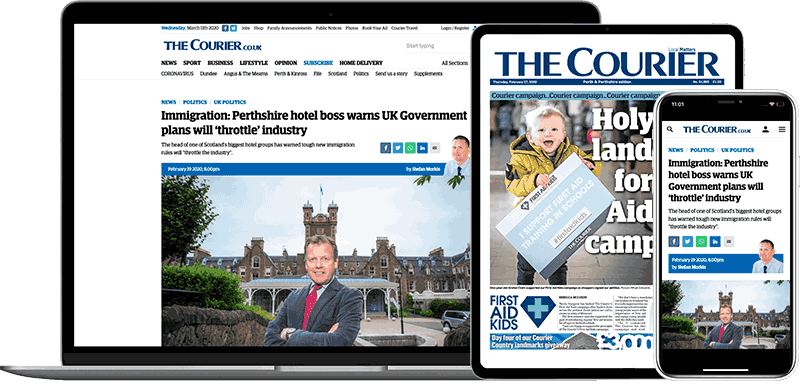 Help support quality local journalism … become a digital subscriber to The Courier
For as little as £5.99 a month you can access all of our content, including Premium articles.
Subscribe