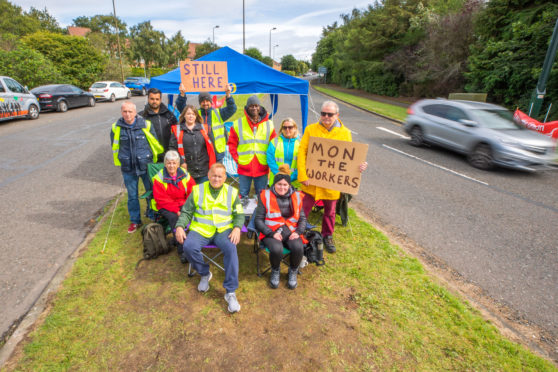 NHS Tayside's pharmacy workers hope a resolution to their long-running strike may be found this week.
Unite, representing the workers, met with the Scottish Government's terms and conditions committee (Stac) on Friday to discuss the ongoing industrial action following a stalemate between the union and the health board.
Stac has now put together a draft terms of reference that outlines the process to be followed in resolving the dispute, which started on August 19 over workers' pay grades.
It is expected that this week a final version of the document will be presented to Unite and NHS Tayside, who both have to confirm they're in agreement with the terms outlined in order for the resolution process to start.
Workers will remain on the picket line until a deal is agreed.
Susan Robertson, Unite's industrial officer, said: "We're as happy as we can be with the result, under the circumstances.
"The process for resolution is being finalised – NHS Tayside and Unite have to agree to it, which will hopefully happen by early to middle of next week.
"The workers are still at the picket line and will be there until this is sorted."
Hopes of ending the walkout were dashed earlier this month after the health board failed to secure enough union members for an appeals panel to review workers' banding grade.
Currently, NHS Tayside's pharmacy support workers are on the health board's second lowest pay grade, earning between £17,949 and £20,015 a year.
However, in recent years the role was said to have become "unrecognisable", with duties from higher paid jobs being filtered down to the lower pay grades.
Ms Robertson added: "This has been a long and bitter dispute over pay grades.
"We believe that our workers have been treated very poorly by NHS Tayside.
"The union has been seeking further meetings with the management to resolve this issue.
"However, they have failed to conclude planned negotiations over the past two weeks."
A health board spokeswoman claimed Unite had failed to take up an earlier offer to meet with the committee.
She said: "We believe the involvement of Stac will support a resolution to this issue.
"Therefore when Stac again contacted both parties earlier this month offering their input to support a resolution, NHS Tayside agreed."