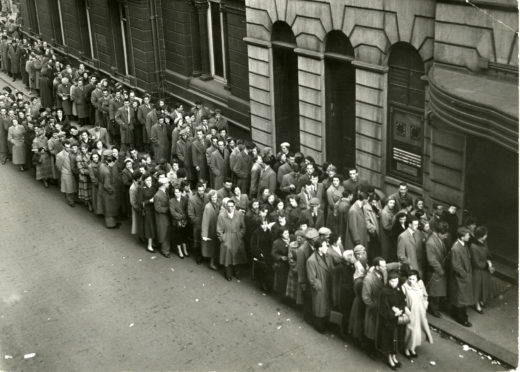 A new golden age of community cinemas could be on the horizon.
90 years ago, the birth of the "talkies" saw an explosion of local cinemas and sparked a construction boom.
In 1929, the Rialto in Lochee made history in Dundee by showing Lucky Boy, the first full-length "talkie".
Victor Hamilton, manager-director of the Kinnaird Picture House in Dundee addressed members of Dundee Rotary Club and said he was convinced the "talkies will survive" and that most films would eventually be shown in colour.
He was absolutely right.
Dundee's first cinemas had been built from 1910 but a building frenzy was sparked across Tayside and Fife to satisfy the demand of soaring attendances at talking pictures.
The Perth Playhouse was built in 1933 in what was believed to be a record-breaking nine weeks and Fife was also at the top of the cinema-going game with big names including The Carlton in Kirkcaldy which opened in 1937.
At the peak of film-going there were 25 cinemas in Dundee – compared with today's three — which meant Dundee had more cinemas and seats per head than any other city in the UK.
In the heyday of cinemas in Angus, Arbroath boasted three . there were two picture houses each in Forfar, Brechin, Montrose and Carnoustie and one in Kirriemuir.
The brief boom was brought to a shuddering halt by the rise of television and the silver screens suffered widespread closures.
Few buildings remain, with many having burned down. Those still standing are either lying empty or have new uses.
Many were stunning examples of architecture of the time – especially art deco, such as the Angus Playhouse in Montrose, designed by the son of Prime Minister Ramsey MacDonald, which was destroyed by fire in 1991.
Perth Playhouse – the Fair City's only complex – remains a fine example.
A mix of community-based and commercially-operated groups are now working to bring back the magic of the movies.
A seven-year project to restore a 1930s cinema in Aberfeldy, which closed in 1982, was completed in 2013.
Chalmers in Arbroath also began to show movies in its filmhouse with great success and Brechin Community Cinema has brought showings back to its city hall.
The £3.2 million Montrose Playhouse is also due to open next year, with an adaptable three screen cinema; education and exhibition spaces; retail space; and café bar.
Chairman David Paton said the times have changed since the birth of talkies but he believes community cinema is, this time, "here to stay".
He said: "At the start of the 20th century the world was a much smaller place.
"Small rural towns didn't have great access to other cities or countries which made cinema their escape to different places and experience things they wouldn't normally have access to.
"It wasn't unusual even for Angus towns to have several cinemas.
"Obviously the world isn't so big anymore and everyone is connected, whether through their phone or home devices and access to anywhere in the developed world is relatively simple.
"Streaming services were mooted to be the next stage in cinemas' demise but recent stats show this is certainly not the case and that in Scotland cinema is still the number one cultural activity that people enjoy.
"I would like to think that with innovations such as event cinema and a recent upturn in more upmarket independent cinemas that cinema is well and truly here to stay and won't just be accessible through the cities anymore but will start to appear more and more on our town's struggling high streets again and help support the heart of these communities."
Mr Paton said the marked decline in cinemas in the 1970s and 1980s was partly due to the recession and also the uptake in out of town multiplex cinemas.
"But the flipside of that was that they all but killed the town centre cinemas…perhaps looking back that was the first nail in the coffin for our struggling high streets.
"Over the past 10 years or so however Scotland has seen a surge in small town centre cinemas returning – some commercially operated like Chalmers in Arbroath and some community-based like the Montrose Playhouse."
Mr Paton said some initial evidence from other towns that have opened a cinema, such as Aberfeldy and Campbelltown show it not only gives the community a vital resource "but encourages people to stay in the area and as a result then supports other businesses locally".
Movie boss also predicted colour revolution
Victor Hamilton's address to members of Dundee Rotary Club in 1929 looked at the future of cinema.
"I feel convinced the talkies will survive," he said.
"I further believe that most pictures will be in colour."
Mr Hamilton, after sketching the development of the cinema since 1897, went on to say that the talkies were not new.
"Many of us recall Hepworth's apparatus, and some may recall Gaumont's," he said.
"These early talkies were not a success commercially.
"The sound was produced through an ordinary gramophone horn situated behind the screen.
"It was difficult to get sufficient sound to fill the hall".
The making of a modern talkie was described in detail by Mr Hamilton.
The varying currents produced in the microphone by the recording of the sound were amplified and passed through a special discharge tube.
Light from the tube shone through a narrow slit, and was brought to focus by lenses.
When the film was developed, the sound appeared as a series of alternate light and dark lines of varying space and density.
To produce the film, the reel was run through a standard projector fitted with a sound attachment.
A beam of light shone through the sound record and emerged with varying frequency according to the arrangement and the sound lines.
The light fell upon sensitive photo-electric steel, and gave electrical variations corresponding to the original sound variations.
These were amplified and conducted to powerful loud speakers – five in number – situated at the screen.
Perfect synchronisation of the sound with the picture was thus obtained.
Mr Hamilton concluded his address with a description of coloured pictures.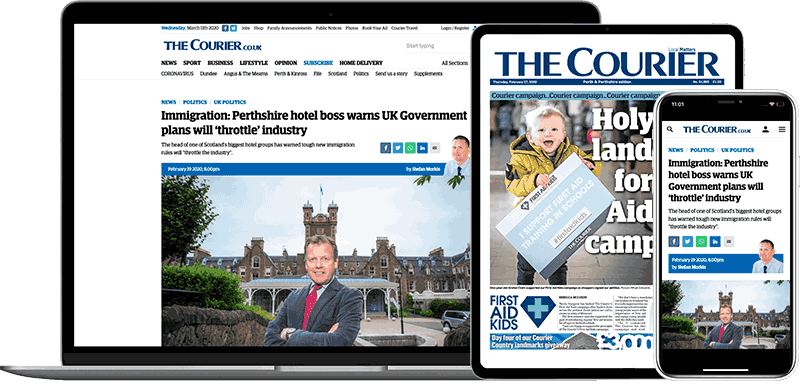 Help support quality local journalism … become a digital subscriber to The Courier
For as little as £5.99 a month you can access all of our content, including Premium articles.
Subscribe