Almost 300 join Alzheimer Scotland Memory Walk at Camperdown Park in tribute to loved ones
Organisers have hailed the hundreds of "fantastic" fundraisers who ensured Alzheimer Scotland's first Memory Walk at Camperdown Park was a huge success.
The walkers set off from outside Camperdown House at 11am, taking on up to 5km and raising thousands of pounds for the charity's work with people with dementia.
<<Watch the video above>>
Previous Dundee Memory Walks have been staged at Baxter Park, but this year the event was held at Camperdown – attracting a bumper turnout of almost 300 walkers keen to take on the new and longer route.
Locality fundraiser Sally Davidson said: "It's absolutely fantastic. Last year we had 84 people and it's almost 300 here today so it's a huge turnout for us. I'm so grateful to everyone for their support."
She added: "There are about 2600 people in Dundee city with dementia right now and we can't deliver the services that no-one else is delivering if we didn't have support like this. It's amazing."
Ian Mitchell, from Dundee, was walking in tribute to his mum, who was diagnosed with dementia around 18 months ago.
He said there was a great atmosphere on the walk and he was grateful for the chance to meet other families dealing with the condition.
"It's good that so many people get together to do this, " he said.
"Alzheimer Scotland gives us a lot of support. They give us a lot of information and my mum goes to things like boogie clubs and it's stimulating for her."
Sisters Jo Bruce and Carol Miller were walking in memory of their father, Donald Erskine, who lived with Alzheimer's for 15 years.
Carol said: "It affected us all, the whole family. But he went on being as cheerful as he could to the end and was a great example to us all."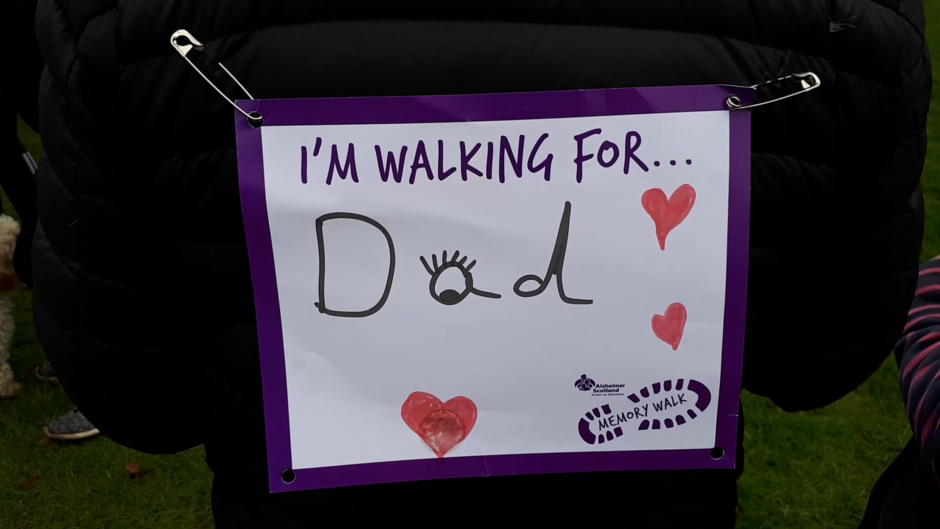 Jo said: "He was a fantastic man and we just wanted to do something in aid of this great charity.
"The Memory Walk is a wonderful thing."
Alzheimer Scotland's Memory Walks are staged across the country and have already raised well over half a million pounds to support people with dementia, their families and carers.
The Dundee Memory Walk will be back next year and Sally is hoping even more people will sign up in 2020.
She said: "It's a great day. It's lovely to meet all these other people and all come together for this really enjoyable walk."
For more information on upcoming Memory Walks visit memorywalksscotland.org.
A massive thank you to everyone who attended the Dundee Memory Walk today at Camperdown Park . A special thanks goes to all our amazing Volunteers who helped on the day, to HCS #Entertainment for being the perfect host and his special guest Minion , to Fit 4 Less for warming us up, the wonderful Piper , Police Scotland Youth Volunteers, to Asda for the refreshment stand, to our staff , Buddy ? and especially Sally our Locality Fundraiser. To Dundee Citizen of the Year Norma McGovern for taking part in the walk and presenting the walkers with their certificates.

Posted by Alzheimer Scotland Dundee Dementia Resource Centre on Sunday, 29 September 2019