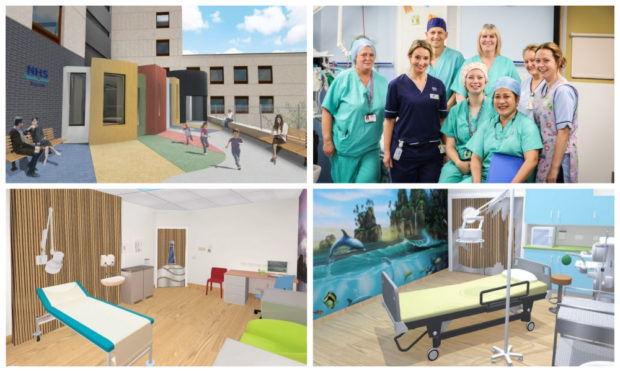 Construction of new state-of-the-art facilities at Tayside Children's Hospital will begin in earnest next week after years of planning and fundraising.
The overhaul will see a pre-assessment/waiting area, two operating theatres and a 10-bed ward area created at Ninewells Hospital in Dundee.
Exclusive new images have been released by RDA architects, showing how different areas of the hospital will look.
Currently, the children's unit is split between levels 4, 6, and 7 but the transformation will mean all three wards will now be on the same storey.
Transformation of the space, previously occupied by Dundee University, is expected to be completed in November 2020.
Suzie Byer, senior charge nurse in ward 30, said the new facility will be of huge benefit to families.
She said: "It will be easier to manage, with it all on the same level. The flexibility will be great.
"We have been travelling across the UK to look at children's units to work out how to design and plan ours.
"I think once it opens, other units will look at ours for inspiration.
"One thing we've focused on is making it feel less clinical and more welcoming."
Dr Grant Rodney, lead for Paediatric Anaesthesia at NHS Tayside, said: "It will add a 'wow factor' to our services.
"We realise it's an anxious time for families and children when they are having an operation.
"It's about the staff and their interactions with them as well as the environment. Things like forms of distraction, lighting, design and decor all matter.
"These create a positive atmosphere and can actually help improve the relationship between patients and healthcare staff into adulthood."
NHS Tayside has contributed £7.7million to the building, while £1.8m has come from the Scottish Government for a multi-storey plant room.
The plant room will also service the adjacent neonatal intensive care unit (NICU), refurbishment of which is also set to begin.
Interim chair of NHS Tayside, Lorna Birse-Stewart, said it is a "very exciting time" for children's services.
She said: "The Children's Theatre Suite and the NICU projects approved recently by NHS Tayside Board will further enhance the services provided for children in Tayside.
"Over the last couple of years a number of teams have been working collaboratively to develop these projects and it is a significant milestone that building work has now begun.
"The Board of NHS Tayside and our stakeholders will follow the work being progressed for the development of these two projects with interest.
"The Board recognises the very high level of expertise and care provided to children by NHS Tayside staff and I am confident that these two new projects will provide first-class facilities to match."
The Archie Foundation has been fundraising to help with costs for the hospital for years and recently raised £239,000 in the latest Oor Wullie bucket trail and auction in September.
In total, the charity has contributed £2 million towards the Tayside facility.
David Wood, chief executive of The Archie Foundation, said: "We are delighted the project has been given the green light and it's wonderful to see the work beginning.
"We can't wait to see the new children's theatre suite begin to take shape.
'This is just the beginning of our relationship with NHS Tayside and Tayside Children's Hospital and we are proud to work with them.
"They provide world-class care and treatment for children and we want to help provide the facilities to match that, making the experience of being in hospital as positive as it can be for local children."