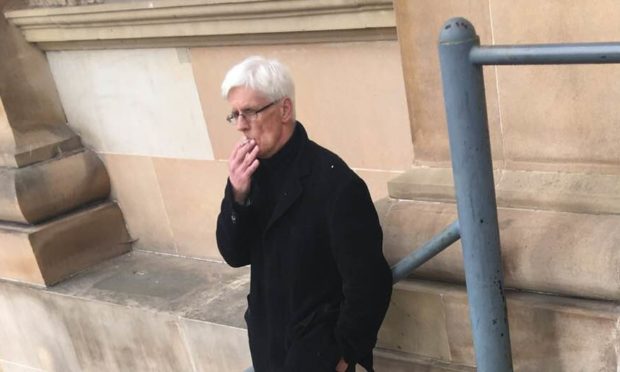 A Dundee art teacher has been found guilty of sexually assaulting pupils during lessons at a city school.
James Smith, 57, groped three girls aged between 14 and 17, looked up the skirts of second-year pupils and "French-kissed" a teenager on her last day of school after she dropped out due to his behaviour.
The disgraced teacher also carried out sex attacks on a former pupil at his house in Nelson Terrace.
Dundee Sheriff Court heard predatory Smith  gained the trust of his students by being friendly, then "pounced".
His offending spanned a decade, between 2008 and 2018.
He was suspended from his job nine months ago when the victims spoke out.
Smith vehemently protested his innocence throughout the trial, claiming the females were lying and that two of them had pursued him rather than the other way round.
He said he found the allegations "horrific" and "incredibly confusing".
However, Sheriff John Rafferty found him guilty of five charges and praised the "courageous" victims.
He added: "I found them to be credible and reliable.
"I could see no clear motivations for them to come here and lie.
"I can't have any doubt in my mind regarding the evidence."
The court heard Smith dated one former pupil and after the relationship ended he met up with one of her friends, also a former student, at Costa.
Afterwards they went to a bar and Smith invited her to sleep at his house as she had missed the last bus home.
The woman described how she "played dead" after Smith climbed into her bed, pressed his crotch up against her and touched her breasts.
He then instructed her to go to his bed where he groped her again.
He also developed  a "flirtatious" friendship with a vulnerable pupil, messaging her outside school hours.
When she tried to distance herself he bombarded her with more messages, then kissed her and touched her breasts in an empty classroom on an occasion between January 1 and March 31 2009.
The court heard Smith made crude sexual comments to both females.
Between May 1 and 31 2010, he touched a female pupil's bottom in an art supplies cupboard during a class.
And between January 5 2018 and July 1 20018 he touched a pupil's thigh and looked up the skirts of children after pretending to drop pencils during lessons.
Smith will be sentenced in November.