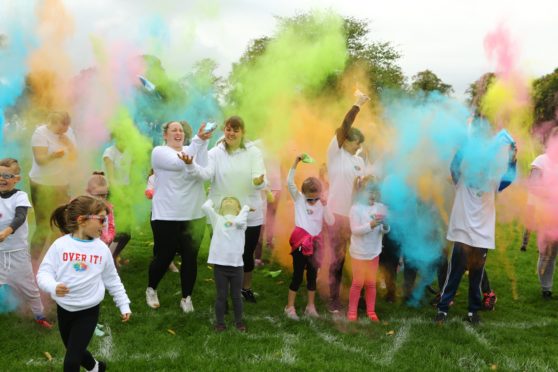 A Dundee park was awash with colour yesterday as more than 400 schoolgirls took part in an event to encourage them to get into sport.
The Colourama Run in Baxter Park was held to celebrate Active Girls Day.
Primary and secondary school pupils were challenged to walk or run a choice of 2k or 5k tracks.
A rainbow of coloured powder was thrown at the participants as they set off to give the event a carnival atmosphere.
The event, organised by Dundee Active was part of a national campaign led by sportscotland which aims to offer more incentives for girls and women to get involved in sport and fitness.
Sports minister and MSP for Dundee West Joe FitzPatrick said: "This event is a fun and colourful way to encourage girls across Dundee to get more active.
"There are so many benefits to making sport and physical activity a part of daily life. From improving physical and mental health, to developing skills and strengthening communities, the impact can be life-changing and that's why we want as many people to get involved with events such as Colourama and enjoy those benefits."
Leisure and Culture Dundee, Dundee City Council and sportscotland are working together on wider plans to support the development of physical education and sport for girls and young women.
Active Schools is working with secondary schools, which have been asked to establish focus groups with teacher and pupil representation.
James Fenna, Active Schools manager, said: "The Colourama Run has been great for for everyone taking part. Dundee is committed to providing more quality sport and physical activity opportunities for teenage girls.
"We are aware that girls are less likely to take part in sport or physical activity and through our Active Schools team together with local schools, we are working to encourage more participation."
"We recognise that girls' needs differ and change as they get older and that girls themselves are the best people to encourage other girls to participate in sport.
"We now have over 30 senior pupils who have become Young Ambassadors across the city. They are now actively encouraging other young people to take part in sports and physical activity in schools and local clubs."
Active Girls Day was also celebrated in Forfar yesterday.
More than 50 girls from all over Angus took part in a day of sporting sessions laid on by Angus Alive, Active Schools and Forfar Community Sports Hub with the support of local clubs.
The hope is that the girls will follow up yesterday's session by returning to the clubs for more.