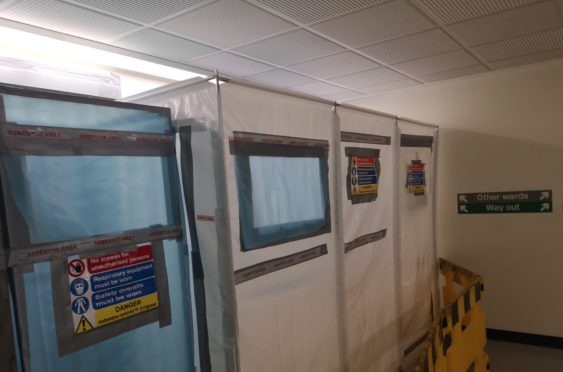 NHS Tayside has reassured the public after asbestos was discovered in Ninewells Hospital.
Members of the public raised the alarm after the harmful substance was discovered in an elevator shaft in Tayside's busiest hospital.
The concerned visitors to Ninewells feared asbestos could lie undiscovered in more areas of the hospital.
An engineer found the potentially harmful substance in ward block B after being called out to replace the faulty lift.
However, a spokesperson for NHS Tayside has said no further safety risks had been identified.
Work to remove the asbestos is expected to be completed next week.
A spokesperson for NHS Tayside said: "One of the lifts in ward block B in Ninewells Hospital was being replaced and in the pre-work survey, asbestos was discovered in the lift shaft door frames.
"A specialist asbestos removal contractor was employed and started working last week. The removal work is expected to complete next week.
"No further asbestos safety issues have been identified in lifts in Ninewells."
Asbestos was previously used to properties for insulation, flooring and roofing and sprayed on ceilings and walls.
Buildings constructed before 2000 may still contain the substance, which is now banned in the UK due to its harmful risk to the lungs.
Asbestos-containing materials pose little risk to the public unless they are damaged or disturbed.
A Freedom of Information (FOI) request from last year saw NHS Tayside admit that asbestos was present in "some" hospitals, although they did not specify which.
There had been 12 requests made against NHS Tayside for asbestos related exposure, however less than five claims had been settled.
A total of £85,315 had been awarded to claimants.
Symptoms of an asbestos related disease can take many years to appear after exposure.
Bill Bowman, Scottish Conservative MSP for the north-east region, said: "This will be alarming for patients and families visiting Ninewells Hospital.
"People may question if the asbestos issue is confined to this area or if other areas are also affected.
"I am sure that NHS Tayside has robust systems in place to deal with situations like this.
"However, I would be seeking assurances that there is no risk to patients, staff or visitors."