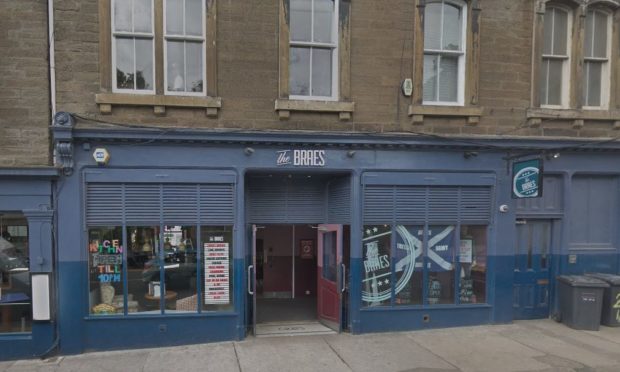 Police in Dundee are investigating an incident at a popular bar that left one man with a "serious injury".
Officers confirmed they were called to an incident at The Braes on Perth Road at around 11.30pm on Sunday following reports of a disturbance.
Police Scotland initially said it was not aware of any such altercation but has now confirmed inquiries are ongoing "to establish the full circumstances of the incident and identify those involved".
Rumours circulated on social media on Monday morning that Dundee Football Club manager James McPake had been involved in the disturbance, reports Mr McPake dismissed as "ridiculous".
The Courier established claims Mr McPake had attacked another customer at the bar were false but further reports have suggested an individual in his party was involved.
A source close to the family of one of the individuals involved claimed the incident erupted after a confrontation over whether a group of teenagers had attempted to take a picture of Mr McPake from their position in the bar.
He said: "It is now in the hands of the police as the parents of the 18-year-olds involved are, rightly, angry."
The source again confirmed Mr McPake had not assaulted anyone but suggested others with the former Hibernian and Coventry City player were caught up in the incident.
He said: "A woman in their company apologised and sat with the young lads, who were a bit traumatised."
The source said families of the teenagers involved then drove to the pub to pick them up after learning about what had happened.
Mr McPake, 35, said he had gone out for a quiet beer after playing in the Sunday testimonial for Lochee United's Greg Kirk.
He said: "The stuff this morning was ridiculous. I had a beer after a testimonial game and that was it.
"I had my wife texting me, saying my sister had been texting. My mum is not on social media but she will also end up hearing from somebody else.
"She'll say people aren't going to write it if it wasn't true but it wasn't."
A spokeswoman for The Braes said: "We can confirm there was an incident between two customers at The Braes on Sunday evening.
"The safety of all our customers is of paramount importance, the situation was swiftly dealt with and our team escorted one of the parties off the premises immediately."
Dundee Football Club declined to comment.