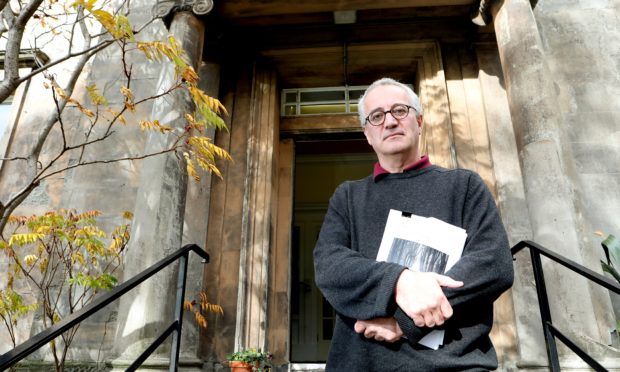 Low income families are being forced to go without food or heating in order to bury their loved ones, according to a major new report into funeral poverty.
The report, commissioned by Dundee City Council and the Scottish Government, and compiled by researchers at Dundee University, has identified more than £500,000 of funeral debt weighing upon those struggling to make ends meet.
The 90-page Funeral Poverty in Dundee: Funeral Link Evaluation, authored by Dr Carlo Morelli and Ruth Bickerton from the university's School of Business, has been released as part of Challenge Poverty Week.
According to the duo, Dundonians are particularly at risk due to the city's high unemployment rate and a rising number of drug-related deaths.
Researchers found the immediate requirement of a significant amount of money to pay for a funeral can be the "start of the decline into debt" through borrowing, selling off assets, payday loans, or foregoing essential such as food, heating and rent.
The report notes the efforts of the charity Funeral Link in providing advice and support to next of kin as they deal with funeral arrangements and the potential debt that follows.
However, it also recommends further work with the local authority's environmental services division to establish a "more respectful environmental burial provision" for those unable to provide a private funeral, including designated burial plots and attended services.
The report highlights the need to promote advice on reducing funeral costs, work with funeral directors to obtain lower cost services for those most in need, and to signpost grant funding where available.
Dr Morelli, co-author of the study, said: "We found that within the short duration of its existence, Funeral Link has provided a widely recognised, valuable service and was highly effective, by working with the funeral sector, in negotiating lower costs for families in Dundee since its inception in 2019.
"However, while there is some evidence of smaller funeral directors working with families to lessen funeral debt, the largest firms in the funeral sector have been successful in increasing costs at the expense of the hardship being caused to families involved.
"The report recommends that the Scottish and UK governments need to demonstrate much greater regulation over the sector if consumers' vulnerability is not to be exploited."
Funeral Link, which the report notes is the only organisation of its kind in Dundee, encourages individuals to make plans at an earlier stage, such as will writing and consideration of Power of Attorney, as well as consideration of savings schemes.
Mary Kinninmonth, chair of the Funeral Link board of trustees, said: "The comprehensive evaluation report from Dundee University strongly evidences the extent of funeral poverty and the need for our services.
"We hope the evidence from it will stand us in good stead as we continue to seek funding to secure the continuation of our much-needed service."